Here Are Four Accelerated Technology Trends Impacting The 2021 Commercial Real Estate Market
For more than a decade, commercial real estate trends (CRE tech trends)  have been about digital transformation. As a result, property technology has grown by 1072% in the real estate industry between 2015 and 2019, and the venture capital industry invested $ 83 billion in firms offering Proptech services in 2018.
A pandemic like this brings new challenges to the real estate industry. Despite the pandemic acting as an accelerant, its effect did not change the trends in commercial real estate that were already present ", said Jim Berry, Deloitte Vice Chairman, and Chief US Real Estate Officer. Even though the events of 2020 were extraordinary, the ones in 2021 and beyond will be even more significant as certain CRE companies begin to capitalize on opportunities to better align their operations with those of the occupier and end-user.
According to Berry, the tremendous worldwide experiment that Covid created forced everyone to challenge their way of living and working. As companies move forward through re-entry and into the subsequent norm, "users of real estate, whether tenants or end-users, have taken center stage over how and what is valued," explained Berry. The location of employees' workplaces, for instance, will depend on business needs and preferences. Therefore, CRE leaders should embrace their culture, purpose, and preferences and integrate them into planning and investments as they examine their companies.
According to Berry, the value proposition of CRE will continue to evolve with "purpose, location, and analytics." "While we consider the pandemic as an indication that current CRE tech trends are being accelerated, it was a real eye-opener. CRE respondents reported that 56% of the pandemic exposed weaknesses in their organization's digital capabilities in the CRE Outlook survey for 2021. In addition , approximately 40% of respondents reported their company had a planned digital transformation. According to Berry, leaders' challenge will be to manage costs while also investing in the future.
In 2021, decisions will impact companies that begin to differentiate themselves and provide a unique value proposition, adds Berry.
In 2021 and beyond, the COVID-19 pandemic is accelerating these four technology trends, according to John D'Angelo, US real estate leader, Deloitte Consulting.
Here are the four technologies that have formed the new commercial real estate trends: 
Rise of Digital Twins
Digital twins are virtual models of physical objects that accurately reflect them. There are various sensors on objects studied, such as wind turbines, that provide vital information. Physical sensors collect information on the performance of objects, including their energy output, temperatures, and weather conditions. This data is used to create a digital copy, which is then processed by a machine. Using this information, a virtual model is able to run simulations, analyze performance issues, and give recommendations for improvements. This translates into valuable insights that can then be used to improve the physical object.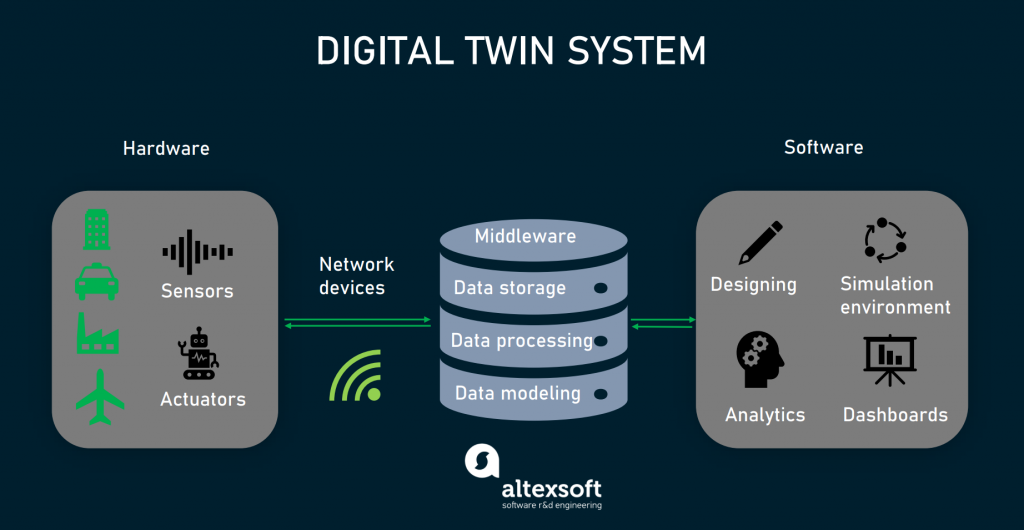 Source: Altexsoft
The Difference Between Digital Twins and Simulations
Simulators and digital twins can be used to replicate a system's various functions, but digital twins are more useful for study purposes. Simulations are typically designed to study a single process, whereas digital twins are capable of running multiple simulations at the same time to study multiple processes.
The differences are even greater. It is rarely beneficial to use real-time data in simulations. Digital twins are actually designed with a two-way data transfer, where sensor data is provided to the system processor, followed by the system processor providing insights to the original object.
Compared to standard simulations, digital twins can study more topics from many more perspectives. Data improvement and the constant updating of data in a wide range of areas combined with the computing power associated with a virtual environment provide greater potential for improving products and processes.
Types of Digital Twins
According to the degree of magnification of the product, digital twins are classified. They differ primarily in the applications they serve. Different digital twins often coexist within the same system or process. We will discuss the types and uses of digital twins in this article as well as their differences.

Source: Tributec
Component Twins / Parts Twins
A digital twin can be thought of as a representation of a functional component, a component twin. It consists of identical parts but with parts that are less important.
Asset Twins
Components come together to form assets when they work with each other. Asset twins enable you to analyze the interactions between components, generating a wealth of information that can be processed and used to derive smarter insights.
System or Unit twins
System or unit twins provide the next level of magnification, allowing you to see how different system components work together to create it. They can provide visibility into the interaction between assets and perhaps even suggest ways to increase performance.
Process Twins
The macro-level view of a production facility reveals how systems interact to create it. In what ways are those systems synchronized, and in what ways will delays in one impact the other? It is possible to get insight into the actual timing schemes that influence overall efficiency via process twins.
Benefits and Advantages of Digital Twins
Better Research and Development
By using digital twins, researchers can more effectively research and design products with more data about likely performance outcomes generated. Having that information can help companies improve the quality of their products before they go into production.
Increased Efficiency
The use of digital twins can support the mirroring and monitoring of production systems after a new product has been put into production, aiming to maintain a high level of efficiency throughout all the manufacturing stages.
Expiration of the Product
Manufacturing companies can even use digital twins to decide what to do with products that have reached the end of their product lifecycle and need to be finalized through recycling or other measures. In addition, they can decide which product materials should be harvested based on digital twins.
The digital twin can improve large physical structures, including buildings and drilling platforms. In addition, the HVAC systems within those structures can also be designed with this information.
The Importance of This Technology for Real Estate
Buildings and their assets became the focus of a digital replica due to some rather critical cases. Many valuable documents, drawings, and notes are produced during the design and construction phases. These documents are all filed, of course. Whenever a problem occurs with the building, the building manager often spends a lot of time identifying the correct document for a particular area and then relating it to the problem at hand. The building occupants have also been forced to wait and wait for this problem. Suppose there are problems in several areas simultaneously (which is most often the case)?
Digital twins are the ultimate tools to visualize the building ecosystem in real-time. The building operators determine which parts need reconfiguring and then work out the most cost-effective solutions within hours.
Data analytics are used to create a digital twin that includes 3D BIMs, the Internet of Things (IoT), and data from building information models (BIM). It allows real-time updates on the assets and spaces inside a physical building and a virtual representation. Operations can be broken into three phases: collection, simulation, and optimization.
Collection
Firstly, a digital twin is connected to the physical object and collects data. For digital twins, data can be collected from several sources:
Devices transmit operational data from equipment (such as an HVAC unit) to remote operators for monitoring and control.
Buildings are also outfitted with wireless sensor networks to collect temperature, humidity, lighting, and other factors. As the space changes, the sensors can be moved as well.
Automation systems for buildings include smart thermostats, plugs, and elevators.
Third-party cloud vendors may offer other cloud services, such as weather data.
Simulation
A virtual representation (simulation) is constructed using the data collected from the physical twin. This simulation is a 3D model of a building, showing the interior and exterior of the building. We consider the interior as a whole, a floor or a specific area, equipment and its activity, and the HVAC system. It is possible to conduct simulations based on the present or the future.
A present-based stimulation involves data changes that follow the physical world changes when the object responds to those changes. Future-based simulations can predict what a physical twin will do in the months and years to come using the data fed by the physical twin. Optimization
As a result, building operators can change the actual asset after the simulation. Building owners already know how any addition or removal will affect the building's performance. As well as deteriorating factors, they eliminated switches to more sustainable options for energy-intensive systems. Insights gained from the digital twin software can teach your employees how to work with analytics with your employee training management software.
The Benefits of Digital Twins for Real Estate
Both immediate and long-term benefits make the digital twin the next phase of real estate innovation. First, maintaining the building contributes to cost savings, increases sustainability, and improves living standards.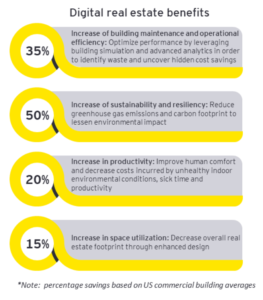 Source: TechWire Asia
Accelerate Decision-Making
Cloud-based digital twins enable building owners and operators to analyze the statistics and predictive analytics at any time via access to the virtual twin.
Maintain Your Equipment at an affordable cost
A digital twin reduces facility management labor costs. For instance, a problem with the gutter system has arisen in a building. Using the tablet or smartphone, the specialist can pinpoint the location of the fault and determine exactly what is wrong.
Make Buildings Part of an Ecosystem
One application can be deployed across multiple properties. With digital twins, buildings can be predicted how their impacts will interact. In addition, providing timely troubleshooting and improving customer service for tenants will increase user satisfaction.
Develop an Efficient Process
The design can be continuously compared to the work in progress through digital twins. In this way, the physical object becomes close to the concept.
Maintain environmental sustainability by reducing CO2 emissions, sound pollution, and collecting waste separately.
Direct Digital Engagement
Using digital services and self-service tools to address the same needs as direct, person-to-person interactions define digital engagement. This may be achieved using one of three methods:
Employee-to-employee communication (eg, video conferencing, collaboration tools)

Employee-to-employee communications (eg, telemedicine, live chat, virtual events)

Chatbots and self-service platforms (eg, customer-to-digital / employee-to -digital)
Engaging customers in brand experiences is about creating experiences that engage them.
A business and customer engagement process typically begins at first contact and continues throughout the customer journey. Engaging with customers in the online spaces they frequent to consume content or communicate involves proactive interactions that boost engagement.
What Are the Benefits of Digital Customer Experience?
You might have been asking about how to market commercial real estate. Here is a detailed way the application of digital customer experience can help make commercial real estate more practical in today's world. 
After a transactional exchange, retaining customers is harder than securing them. After their initial purchase, you will need to maintain their interest in your brand to develop loyal customers.
Consumers today are primarily digital customers. Consumers navigate and converse with brands mainly through digital channels. For brands to fill in gaps in their customer's journey, they must engage them seamlessly across various digital devices.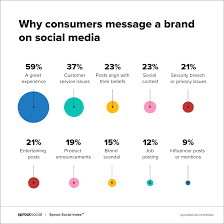 Source: Sprout Social
Customer experiences (CX) have evolved; they are no longer just about making a purchase decision. Digital engagements mean more than just providing customers with great products for them to enjoy.
The consumer wants to be treated as an individual. They expect brands to know their preferences and past purchases to deliver an individualized experience. As a result, businesses have to leverage information from multiple touchpoints to deliver on those expectations. Engagement strategies can be informed by analyzing the data, and CX improved.
A great multichannel engagement strategy delivers when it involves great end-to-end customer experience, real-time support, or valuable content. By doing this, you can establish a stronger relationship with your customers, boost brand awareness, and bring your business closer to success. What are the best ways to engage your customers?
Each interaction with a brand, online or offline, builds customer engagement.
Business interactions provide a chance to improve a customer's experience by meeting their needs and providing solutions to their problems.
The following factors need to be taken into account:
1. Develop a Strategy to Engage Your Customers
For any business model to engage customers, it's essential to have a digital engagement guide describing its goals and strategies. With defined goals, trackable metrics, and clear expectations for your support staff, you should be able to achieve your goals.
You and your team will be able to stay on track by developing a digital customer engagement strategy and will be able to provide consistent, streamlined service to your customers.
2. Increase Engagement With Digital Marketing and Personalized Experiences
To ensure a seamless customer experience, implement customized digital channels across all channels.
The customer wants to be treated as a human being. In other words, generic digital marketing tactics have stopped working. Instead, businesses must adapt to customer demands for humanized interactions with brands to succeed.
When you customize content or customer support for an individual customer, you should learn about their habits.
Personalized content marketing is an excellent way to help customers engage by providing valuable content relevant to their needs.
Providing timely, relevant, and personalized customer support increases customer engagement. The agent can then use this information to provide support if the customer chats with the airline and knows that the customer has an upcoming flight to San Antonio. You can initiate and continue your chat with an agent with a personalized message such as, "Thanks so much for chatting with us. Do you have any questions about the property? "
3. Invest in Customer Engagement Software
Most customer engagement platforms are software that businesses use to engage with their customers through multiple touchpoints. By tracking client journeys through your business, you can understand how your audience uses your product.
The following features define customer engagement platforms:
Providing customers with multichannel contact capabilities

An intelligent routing system that ensures the right person is contacted for each customer

Improved productivity and efficiency of agents through automation

Analyzing agent performance and improving training strategies with workforce management tools

Provides valuable insights into the customer's experience through reports and analytics
The Future of Digital Engagement is Omnichannel Contact Centers
Engagements with customers are conducted through RingCentral's omnichannel contact center.
It is a game-changer to include a great omnichannel contact center into your business strategy. By contrast, this kind of solution can:
Manage customer interactions from one platform and on multiple channels.

Take advantage of the power of AI and machine learning to analyze messages and deliver them to the best-suited agents.

Integrate CRM data with your digital marketing strategies to track interactions and increase sales.
As a result of the pandemic, touchless services had to be installed. These won't be eliminated after the pandemic is eliminated. Touchless services facilitate a healthier environment while automating traditional processes for commercial real estate end-users. Most of us don't think anyone would argue for reverting to earlier, less efficient ways of doing business to have more convenient services.
Data and Analytics
CRE companies are working to understand and address the opportunities and risks presented by these changes. But, as D'Angelo notes, data-driven decision-making will continue to mature as demand and behavior patterns change rapidly. D'Angelo said: "It's simply not an optimal environment to follow instincts or gut feelings."
Boston is one of the few cities where the price of homes within half a mile of Starbucks rose more than 171% between 1997 aUsing nontraditional data to its full potential
Many developers and investors we talk to have expressed frustration with the difficulty of utilizing data for quick, actionable insights despite the availability of data. For years, investors and developers alike have been looking for information about where to acquire land and when to build. To capture value, portfolio holders must regularly assess the conditions that lead to divesting assets or selling them.
Identifying subtle trends in commercial real estate  slowly can lead to missed opportunities. On the other hand, a first-mover advantage comes from spotting a compelling (and perhaps inconspicuous) opportunity before anyone else. Why is it so difficult to get that spot as a first mover? What is the best way for developers and investors to keep track of so much data and quickly discover patterns that help them make profitable decisions? Is it possible?
It is difficult to draw clear hypotheses and build robust business cases using conventional analytical methods and data sources. Thousands of records or points of data must be sifted through by analysts to discern clear patterns, with few tools to help them extract insights from that information. As a result, investors have usually missed the best opportunities until they can gather, compile, and process the data they need to distill action.
However, new and unconventional data sources are gaining more relevance. For example, we can identify "hyperlocal" patterns through resident surveys, mobile phone signal patterns, and Yelp reviews of local restaurants pinpoint patterns on a city ​​block level instead of city-wide. Long-term market predictions also use macroeconomic and demographic indicators like crime rates and median ages.
Among these variables are:
Swimming pool building permits issued

The number of coffee shops within a one-mile (1.6 km) radius has changed

The consumption of energy by buildings in the same zip code

Frequency of elevator usage, based on in-office mobility

The tone of Yelp reviews for local businesses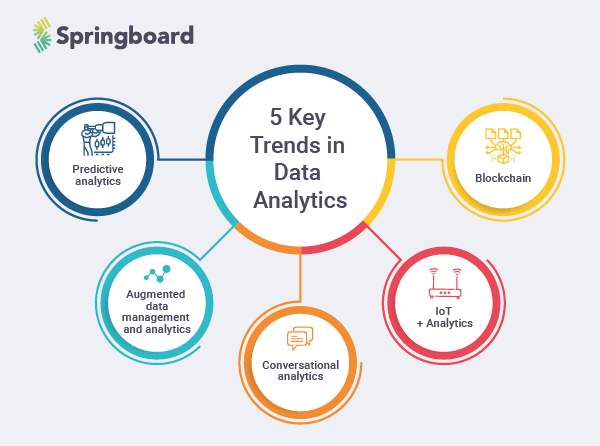 Source: SpringBoard
The Art of What's Possible
Advanced analytics makes it possible to stitch together data from various sources using machine learning algorithms, which make aggregating and interpreting these disparate sources of data much easier. Before analyzing data, technology solutions access APIs and connect databases to automate the data collection process. Data is not of value unless analyzed to extract trends  and forecasts that can be used to design market-entry strategies.
If you were a developer, you might want to identify underused but valuable parcels zoned for development. Multiple Listing Services, for example, provide information on previous transactions and are widely recognized as a traditional source of information on residential and commercial real estate assets. However, due to their inadequacy in anticipating future potential, these databases have limited value. Using advanced analytics, a parcel can be assessed with a predictive lens to identify focus areas. Therefore, a developer can quickly access hyperlocal community data and land use data, and market forecasts to choose the most suitable neighborhoods and buildings for their development project. The developer can also maximize value by optimizing development's timing, mix, and price segmentation. The impact of data-driven decision-making
With the right approach, data-driven insights can be gained. For example, a Seattle multifamily building's three-year rent per square foot could be forecast using a combination of traditional and nontraditional data. As a result, machine-learning models could predict rents more accurately than 90 percent of the time.
Also, nontraditional data was used in the exercise to demonstrate its power. Vacancy rates, for instance, were found to correlate with future value, perhaps unsurprisingly. Nevertheless, variables derived from nontraditional sources, such as proximity to highly rated restaurants or changes in the number of nearby clothing stores, accounted for 60 percent of rent changes.
With these nontraditional variables taken into account, buildings within the same zip code can have vastly different rental outcomes. Likewise, two seemingly identical buildings can have very different growth paths when compared by traditional metrics. Applied across a series of investments, it is easy to see how this disparity at the individual building level can have dramatic effects when applied across a portfolio.
Using advanced analytics, applications can be scaled to suit a wide range of situations. For example, an application used to predict rents can also be utilized in the following scenarios:
Setting expectations about the performance of individual properties in high-growth markets to aid in choosing which properties to invest in or sell.
In otherwise declining markets, they determine which assets will hold their value.
Assessing the return on investment or stabilizing the yield on unit upgrade costs for specific properties (for instance, calculating the return on investment or yield on unit upgrade costs)
Comparing predictive-model output to market information gleaned from traditional sources, including brokers.
Robotic Process Automation
According to D'Angelo, the real estate industry has historically been slow to embrace technology. A good example of the slow adoption of automation in the CRE tech trends (Commercial real estate technology trends) is robotic process automation (RP). As a result, RPA will be an important component of overall digital transformation efforts in the CRE industry, as CRE firms work to reduce costs and improve operational efficiency.
According to Berry, the degree to which CRE companies can succeed in a digital work environment will determine their competitiveness in the post-COVID-19 world.
The real estate industry is undergoing a significant transformation due to robotic process automation (RPA). As a result, real estate companies can save money and allow their professionals to focus on more valuable assignments by automating these manual tasks.
Real estate organizations face the same challenges as traditional industries despite their efforts to drive efficiency in their back-office processes. It takes a lot of time and focus on managing documents, process invoices, and extracting information from them.
The tasks above are important, but the labor required to complete them is considerable.
Ranjit PV, Vice President, Technology at Retransform, says that real estate companies are constantly looking for ways to improve efficiency, reduce costs, and speed up turnaround times.
The best way to accomplish this is by adopting robotics or RPA.
The ability to automate such tedious and repetitive tasks can save organizations considerable time and resources, explains PV.
Why RPA is Beneficial
In the real estate industry, RPA has many benefits.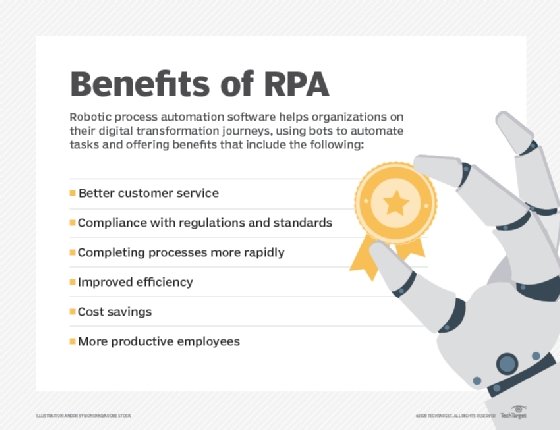 Source: TechTarget 
Adopting the technology will accomplish many tasks much more efficiently, as they will be accomplished in a digital environment much faster. 
As a result of the bots' 24/7 operation, repetitive tasks will be automated, and turnaround time on tasks will be improved, leading to cost savings.
As a result, accuracy will also significantly increase since there are no distractions or mistakes once the bot is programmed.
Automating manual tasks saves time, which is perhaps the most important benefit. It is possible to move employees in a revenue-generating position, an area requiring a human touch, or into an area where innovation is required.
By implementing RPA, human resource assessments are freed up. Furthermore, from the perspective of compliance, once you set boundaries, the bots will work within them, ensuring your business stays in compliance, "says PV.
A real estate company that does not adopt RPA, and other similar technologies, will have difficulty competing with those that do. The forward-thinking individuals will gain a competitive advantage by implementing RPA.
An RPA procedure is a relatively safe, non-invasive method. Companies don't have to modify their existing systems, and as a result, efficiency, quality, turnaround time, customer satisfaction, and much more improves. Deploying RPA offers a lot of benefits, but it carries minimal risk.nd 2014, 45 percentage points higher than the rest of the city, according to a February 2015 report by real estate brokerage and information website Zillow. Likewise, rents of Seattle apartments within a mile of specialty grocery stores like Whole Foods and Trader Joe's have appreciated faster over the past decade than rents of other buildings.
Having a grocery store nearby might seem intuitive, but home prices are not just affected by proximity. Community features are a driving force rather than quantity or mix. Even though there is a correlation between having more than four specialty food stores within a quarter-mile of a property price increase, having more than two within the same distance correlates with a price decline.
Many American cities exhibit these nonlinear relationships. It is one of the market trends for commercial real estate in the United states. It is very evident in Los Angeles commercial real estate market trends As a result, it is becoming increasingly difficult to tame big data. This is illustrated by the sweet-spot intersection of density and proximity to community amenities that is different across cities and even neighborhoods.
Commercial Consult
If you want to apply these commercial real estate trends to your activities  in the real estate market, then CommercialConsult is the best bet for you.
We are a company of professionals and experts who specialize commercial real estate  and its transactions. We have professionals who are vast in the field and have a track record of amazing reviews to back up their expertise. 
We believe with our partnership, we can help you implement these commercial real estate trends to your business. Contact us today.