Reasons Why Commercial Real Estate Owners Need a Strong Digital Presence in 2021
A "new sort" of the digital revolution is emerging in the commercial real estate industry, thankfully offering numerous advantages to commercial real estate owners looking to sell their properties.  
Undoubtedly, social media has established a paradigm shift to communication, and businesses are beginning to embrace its use for various business operations, including communication, marketing, advertising, etc. The commercial real estate industry is no different.
The need to maintain a solid digital presence as a commercial real estate owner has never been this important. Undoubtedly, despite the need to see a real estate property in person before reach a final buying decision, buyers often conduct in-depth research about such property before their on-site inspection. This majorly contributes to why you should have a strong online presence as a commercial realtor.
Digital technologies have significantly influenced the real estate market. This article comprehensively explores the top reasons commercial real estate owners must have a strong digital presence in 2021, plus how you can harness the numerous advantages of the internet as a commercial property owner.
Top 7 Reasons Commercial Real Estate Owners Must Have a Strong Digital Presence in 2021
Visibility
Several owners are looking to sell their commercial properties for various personal reasons. Hence, to have fair market traction, you must position yourself appropriately so potential buyers can find you as quickly as possible. One of the best ways to do this is by maintaining a strong digital presence.
When your commercial real estate shows up in almost all digital platforms, including Google, Facebook, Twitter, etc., you have the edge over other competitors to sell your properties as quickly and favorably as possible while building trust and a strong relationship with your clients.
Strong property visibility is yet another excellent way to indirectly influence the buying decision of your prospective customer. A buyer who has seen your property listed everywhere on the internet can easily conclude within himself to deal with you over other commercial real estate owners looking to sell their property.
Having a strong digital presence is a way to connect deeper with your potential buyer, taking control of the sales process even before you pitch your sale. This way, you can close more favorable deals.
Target, Monitor, and Measure Engagement
Digital technology is primarily based on data. Every transaction on the internet, regardless of type, creates a goldmine of detailed information that you can use to enhance your marketing efforts. The same also applies to selling your commercial property.
You can use a strong digital presence to track and measure how users interact with your properties, identifying valuable insights into their preferences and needs. Commercial real estate owners can use these insights to efficiently target and streamline their audience.
A more defined audience ensures your commercial property is shown to interested buyers who are similarly ready and willing to close a sales deal quickly. It also aids strategic, customized marketing approaches while helping you make better-informed decisions during the negotiation process.
Chatbots
Another advantage of having a digital presence as a commercial real estate owner is using chatbots to your marketing advantage. Chatbot technology is used to promote direct communication with your prospective customers. It's a way to promote your property listing, too.
Sometimes, you might be relatively busier than attending to potential clients. Chatbots will help you respond accurately and quickly to clients' questions while collecting valuable data from them to improve your targeting strategy and customer engagement.
The need to enjoy the various benefits of this automation technology is yet another reason commercial real estate owners should have a strong digital presence in 2021.
Stay ahead of your competitors.
Just as you are, your competitors are also working tirelessly to close the best commercial property sales deal. A proven way to stay ahead of the competition is harnessing the power of the internet.
A solid digital presence promises speed, flexibility, efficiency, and scalability in your advertising, marketing, and negotiation processes.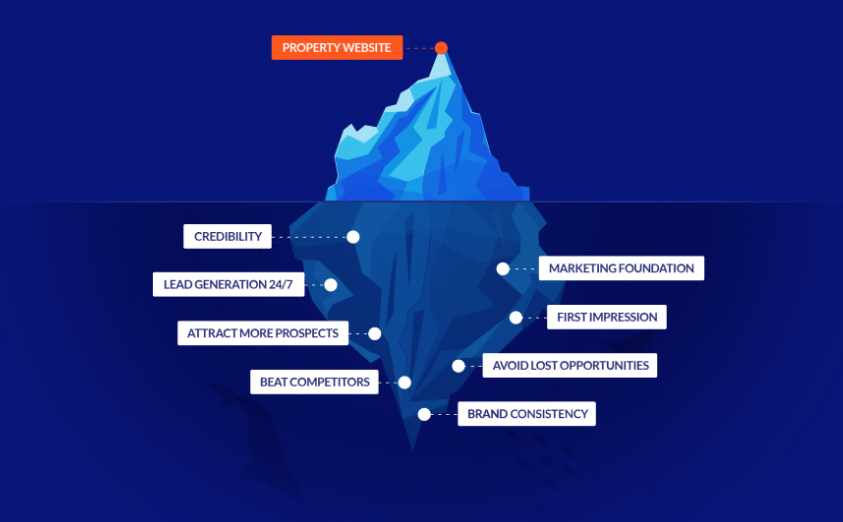 Source, SharpLaunch
Influencer Marketing
People prefer genuine experiences. Hence, potential buyers will most likely find a real person believable over some random ad banners or videos. Hiring influencers to help your commercial real estate marketing to help you maintain a robust digital presence offers several benefits.
Apart from being an inexpensive option, it can help you generate leads effortlessly. What you need to do is find influencers whose followers are your suitable customers. Considering your target audience is consequential in this regard; otherwise, you might find yourself losing money yet without finding the right buyer for your commercial property.
Build Credibility
A digital presence will help you develop a professional image effectively. A strong digital presence includes having a well-designed property website, social media integration, consistent branding, and other helpful digital features.
Reliably delivering the most accurate, detailed, and latest information about your commercial property for sale will make potential buyers see you as a trusted owner to solve their commercial real estate needs.
Reinforcing your digital activities helps make you credible, positioning you as a market leader who's ever-present to address his buyers' needs and requests.
Constant Property Awareness
Finally, another reason you must have a strong digital presence as a commercial real estate owner is because of the constant awareness it creates for your property.
Business structure is being significantly shifted from functioning majorly during regular business hours. Nowadays, business deals take place to cut across all hours, whether day or night, especially now when working remotely is being embraced.
Having a strong digital presence makes you always available and ready to attend to your potential buyer. If appropriately set up, using technology such as Chatbot, you can let your website or social media channels work for you while you aren't active.
This way, you can unrestrictedly continue attracting and capturing prospective property buyers' interests, engaging them while creating more opportunities to close a favorable sales deal.
Major Sites You Should Consider as a Commercial Real Estate Owner
Having understood the major reasons you should consider having a strong digital presence in 2021 as a commercial property owner, you must identify the top sites you should consider when developing your marketing and sales strategy.
Technically, you should consider platforms that have a larger percentage of your target audience, in essence, where your potential buyers spend more time on the internet. Typically, commercial real estate owners can find buyers on Facebook, LinkedIn, YouTube, and Twitter. The relevance of these digital channels cannot be overemphasized.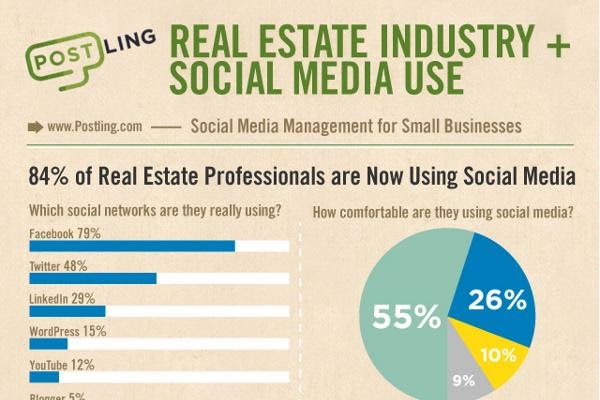 Source, Brandongaille
Let's explore each of these major platforms individually to identify how best they contribute to helping you close the best commercial real estate deal.
LinkedIn
Launched in 2003, LinkedIn has over 238 million members cut across 200+ countries. It is touted to be the largest professional networking website.  
Commercial real estate owners can explore this great platform to increase their property exposure and awareness.
LinkedIn also serves as a custom-based marketing platform. It allows users to create and send personalized messages to their target audience via email. It's an excellent alternative to cold calling. Summarily, it is a fantastic platform to enjoy optimal exposure, connecting with relevant buyers for your commercial property.
Facebook
Launched in 2004, Facebook has over 1 billion active users and has proven, over time, to be a great way to maintain excellent communication with your prospect, brand exposure, and increase lead generation.
Many persons believe Facebook is solely for personal use. Unlike this belief, you can harness the power of this social platform to reach your target audience daily without posing off like spam. Commercial real estate owners can network and build profitable relationships with prospects via Facebook.
Twitter
Launched in 2006, Twitter has recently been a significant social media channel for the Commercial real estate industry. On Twitter, commercial real estate owners looking to sell their commercial property can raise awareness for such property, build and maintain excellent relationships with prospects, and, most importantly, stay up-to-date with market and industry trends.
Twitter is particularly advised for commercial property owners due to its capabilities of outlining the selling points of your property in the shortest possible way, thereby catching the interest of your potential buyers as quickly as possible.
Similarly, people looking to buy a commercial real estate property can easily find you using industry-related, location-based, or even-related hashtags.
YouTube
YouTube was launched in 2006 and has since then grown to be the second-largest search engine, just behind Google. With over 1 billion monthly visitors, you can be sure of finding the best buyer for your commercial property as quickly as possible on the social platform.
Video marketing has significantly helped several realtors to close favorable deals. However, this primarily depends on the professionalism of such videos, the condition of your commercial property, your YouTube marketing expertise, and others.
Hence, before you put your commercial real estate up for sale, ensure it has been upgraded to the best possible condition. Otherwise, even if your video reaches over 1 million YouTube users, you might not be able to land any credible sale.
Blogging
Finally, on our list of the best social sites, you should consider building your social media presence as a commercial real estate owner is the blog.
Blogs are websites developed to allow self-publishing using an interactive element. Hence, the primary purpose of a blog is to share information and ultimately convert leads. Many entrepreneurs, businesses, and companies are beginning to create their blogs to connect better with their target audience.
You can also join the trend, create a blog for your commercial property and start reaching out to prospects. It's also a way to build credibility and trust in the mind of potential buyers.
Blogging is an inexpensive way to build a solid digital presence. Thankfully, sites like Blogger.com, WordPress.com, etc., offer free blog templates that you can use to design your website. Commercial property owners can use their blogs to win customers over to their side.
Tips On How to Use Social Media Effectively
Building a strong digital presence goes beyond choosing the right platform. How you utilize such platforms are also highly consequential. Below are five expert-proven tips on how you can use various social platforms to your advantage as a commercial real estate owner in 2021.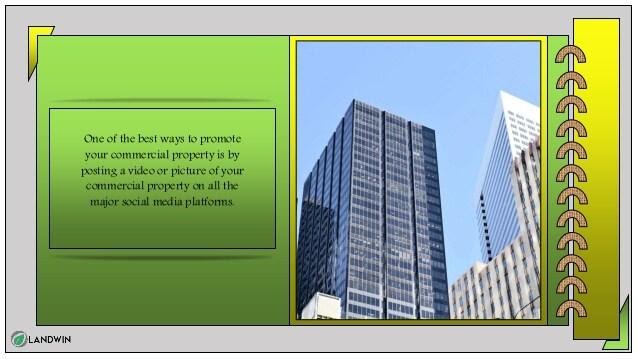 Source, Slideshare
Have a plan and strategy:
While consistency is essential for a strong digital presence, it is unwise to just post randomly without a specific pattern or strategy. Hence, you must define your content, posting frequency, and ultimate goal.
Also, ensure you share quality content, including but not limited to professional images (and videos) of your commercial property, targeting the right audience, and offering a valuable property for sale.
Connect with the right organizations and people:
Ensure you follow the right professional commercial real estate organizations in your local and international markets. Connecting with industry leaders will help you learn more efficient and timely ways to find great buyers and close profitable deals.
Turn your handle into a business card:
Social media profiles are increasingly replacing traditional business cards. Hence, commercial property owners must connect to this trend, harnessing the power of their profile to build and maintain business relationships easily.
Ensure your posts are visible:
The enjoyable benefits of hashtags for social media marketing are numberless. You can use them to ensure the optimal visibility of your posts. You can also consider tagging relevant people on your posts and employing commercial real estate competitive keywords.
Final Thoughts
Technological advancements have raised the need for commercial real estate digital marketing strategies. Building a stronger digital presence is a significant way of making this possible.
The various reasons and accompanying tips outlined in this article will help you get started with building your well-optimized digital presence so you can close the most favorable sales deal for your commercial real estate property.
While the whole process might be somewhat challenging and tiring for you, the most essential thing is to get started. Find the best platform for your property, identify your audience, build a strategy, and start building your digital presence.
So, there you have it: the reasons why commercial real estate owners need a strong digital presence in 2021!
Are You planning to sell your commercial real estate? Consult with Us at Commercial Consult
Commercial real estate deals feature several legal aspects, alongside other technicalities that might get you confused. Enjoy a seamless and effortless commercial real estate transaction process by speaking with our experts at Commercial Consult. Contact Us today.