12 Best Commercial Real Estate Selling Tips
Struggling to understand how commercial real estate selling works in today's age and the digital economy? 
Not sure when or how to prepare for selling your commercial property, and how to do it faster and like a pro? 
First, start by tapping into your audience's head for a minute. Think about why buyers buy commercial properties. Why would they buy yours? Why now?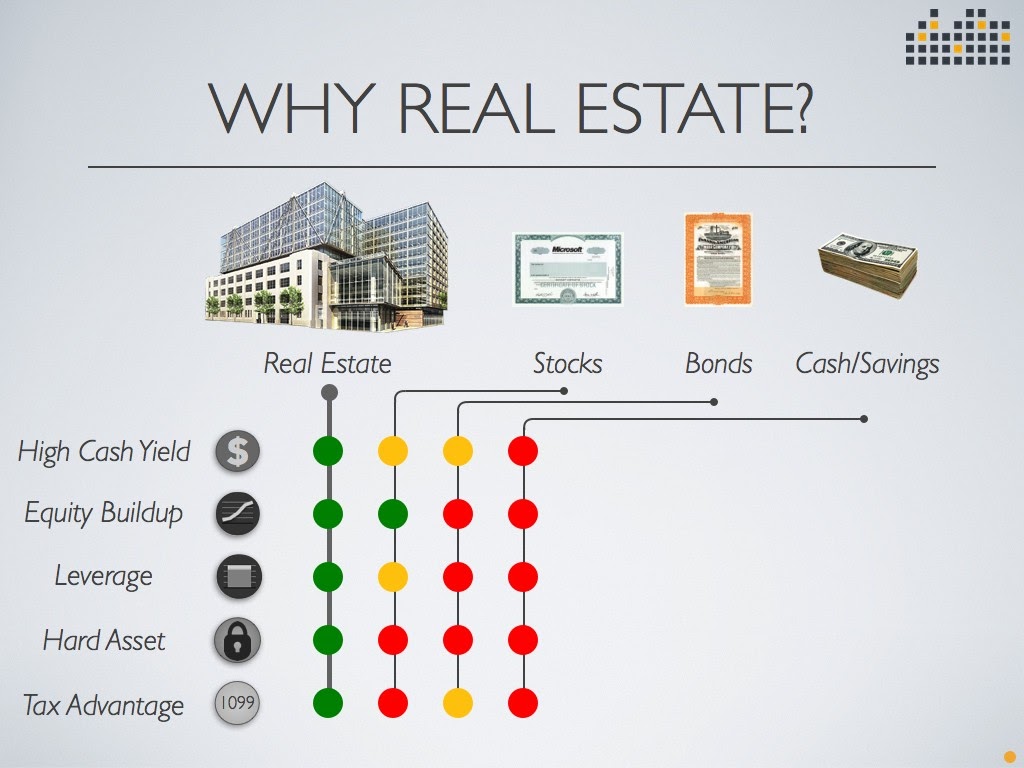 Source: Real Crowd
Buyers buy for many benefits. As a landlord, your property has to leverage and articulate these advantages whether you own the business itself or not (e.g., offices, retail store, hotel, mall, restaurant, warehouse, etc.).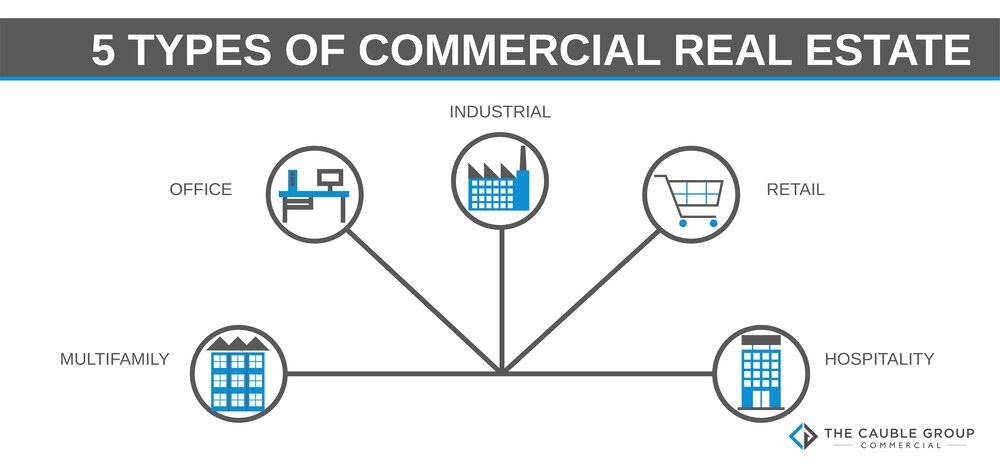 Source: Caudle Group
Commercial properties leased to owners require complete and ongoing management by their owners. A commercial real estate manager can assist property owners with finding, managing, and retaining tenants, overseeing leases and financing, and coordinating property maintenance and marketing. As the rules and regulations governing properties in such industries and municipalities differ by state, county, and city, a commercial property management company with specialized knowledge is beneficial.
The commercial real estate market offers lucrative returns and can provide investors with a hedge against stock volatility. Investors can profit from the appreciation of property when they sell, but most of their income comes from rents paid by tenants.
Here are the top twelve commercial real estate selling tips you need to know before you decide to sell your property and walk to the bank:
#1. Connect with the Right Broker for the Job
Simply, there is no better resource than a knowledgeable commercial real estate broker. They are experts in real estate, its transactions, and the market. They help clients buy, sell, or lease commercial real estate to operate their businesses. 
The role of the commercial real estate broker is to assist clients in selling real estate assets with comprehensive market analysis to set the right listing price, market the property to find qualified buyers, and negotiate sale terms that maximize their returns.
Choosing the right broker for your commercial real estate transaction will ensure that you sell your property more effectively.
#2. Don't List for Too High of a Price
When you list your property too high, any buyer agent and/or prospective buyer will be able to examine the property's characteristics and compare it to prices of similar properties currently on the market. It will take a longer time to sell, and you'll spend more time with carrying costs – mortgage, insurance, property taxes and possibly even a shift in the market, so what you think you'll make on the increase will be less valuable. 
Buyers won't evaluate your listing unless they already know that their offer will be in the ballpark of what you listed it for.
#3. Create the Right Team to Sell Your Property
Selling your commercial real estate property with the help of a real estate team has been a viable business model since the 1960s. A professional real estate team stands out from a single agent or even a full real estate brokerage with individual agents.
A single agent deals with all the needs of their clients alone, using automated programs and software to market the commercial real estate property, answer customer questions about the commercial real estate property, negotiate contracts, and coordinate the various parties in a transaction to reach the closing.
Real estate teams blend agents, clients, administrative staff, and automated systems to rapidly provide many services and with great detail-oriented attention. When you work with a tight-knit, experienced team, you can receive high-quality, beneficial services that can add real value to your transactions. In addition, the team will coordinate its resources to help you achieve your goal.
You are not only engaging the service of a group of skilled agents and administrative professionals when you hire the right team to market and sell your commercial real estate property; you are also hiring caring people who will work hard to ensure that you have a positive, beneficial experience.
#4. Prepare your documentation
It is advisable to take time before you list your commercial real estate property on the market to ensure that all the documents you need are ready. Below are a few documents you may need to prepare before listing your commercial real estate property:
Original documents – Finding the original appraisal , title report,  and other pertinent documents from when you purchased your commercial real estate property is vital before you list it. This will determine your property's value and the starting list price.
Commercial real estate property sale worksheet — as you prepare to sell your commercial real estate property, a commercial real estate property Sale Worksheet will help you stay organized. 
Maintenance records — it may be helpful for you to locate your commercial real estate property's maintenance records in case an interested buyer requests more information about the work done on the property.
Manuals and warranties — do you have any manuals or warranties available to provide a prospective buyer with more information about the equipment and appliances offered for sale? If yes, you must prepare the documents.
Commercial real estate property owners' association — check out the available documents from your neighborhood association, because most buyers want to know what regulations they must adhere to when they move to the property's community.
#5. Clean up the property
The best way to make sure you get the highest possible price for your commercial real estate property when you decide to sell it is to make every effort to do so. Your best shot at impressing the buyer is by deep cleaning the property. Although staging your commercial real estate property includes showcasing your property so that it looks more attractive to a potential buyer, it is of no use if it is not cleaned correctly.
Cleaning the commercial real estate property thoroughly determines whether your commercial real estate property will sell. This is not the same for a commercial real estate property that's been inspected and inspected again. It can influence the amount of money someone is willing to pay for it if they consider purchasing it. This is why your property should be deep cleaned before it is listed for sale.
#6. Fix any deferred maintenance
A commercial real estate property owner who has postponed necessary maintenance on a commercial real estate property is said to have deferred maintenance. Many commercial real estate property owners choose to delay their commercial real estate property's care for many reasons, such as not having the money for the repairs, trying to save money, or even feeling no need to fix the problem as it doesn't affect them. Deferred maintenance usually covers everything, from minor issues like a loose window to significant issues like mold or pest issues on the property.
If you do not take care of deferred maintenance yourself, you will face a problem: buyers will overestimate the amount of repair needed. In addition, many buyers will look at the items that have been deferred for a long time and wonder what other problems might exist below the surface.
To boost your commercial real estate property appeal, you must take care of all deferred maintenance.
#7. Market to the right buyer
Marketing aims to drive more people to the property and prevent the seller from undervaluing it. In the end, the more people who view your commercial real estate property, the lower your risk of underselling. As a result, real estate marketing delivers peace of mind, speeds up the sale, and drives the highest price.
In a seller's market, good marketing can lead to higher prices, and in a buyer's market, it can lead to the difference between "sold" and "expired." Your commercial real estate property might not sell, but great marketing makes the phone ring,  if no one calls, there will be zero sales.
Because of this, you should consider your audience, the real estate market, and when you are marketing. 
With the advancements of technology, creating and sending electronic flyers has become very simple. In addition, there is no limit to the number of photos you can include. Producing these generally doesn't cost too much, but a better presentation will showcase your property in a better light.
Make sure to share the flyers with real estate agents in your area as well as your family, friends, and co-workers. Brokers and agents who work with buyers in your neighborhood who are based out of town can also be targeted.
#8. Get as much exposure as possible when selling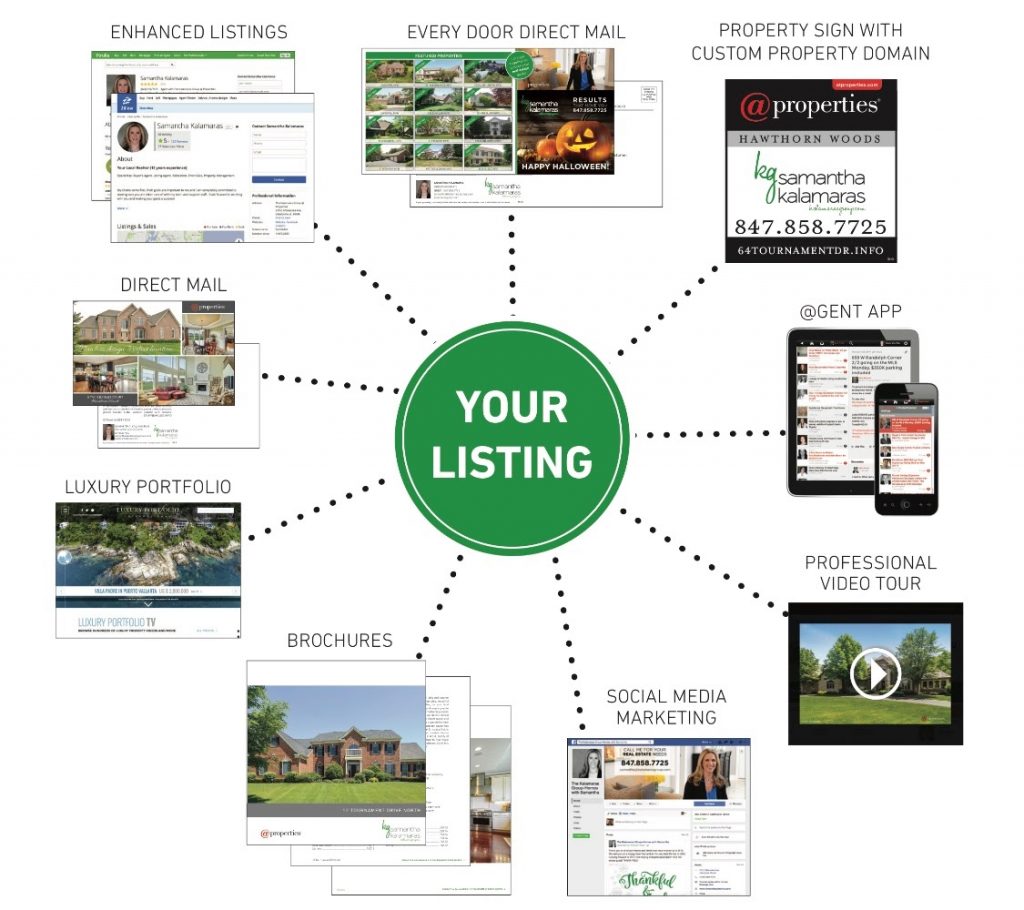 Source: Premier Listing Showcase
Getting the most exposure to the market is the number one objective in marketing your commercial real estate property. You will reach the greatest number of potential buyers with an increase in exposure on the market.
There is a higher likelihood that you will field multiple offers when you have a larger pool of buyers. If multiple offers are made, you encourage prospective buyers to offer their best price to compete with other offers.
When your commercial real estate property first hits the market, it is best to launch a marketing campaign. This marketing campaign should incorporate (but not be limited to) the following tools:
Print materials such as flyers, brochures, postcards, etc. you can hand out to potential buyers (anchor your flyers with photos and refer to the major selling points)

Listing on multiple listing services (MLS), Costar/Loopnet, and any other pertinent websites (ie. for Land listings –www.land.com, etc) with all descriptive information

Online virtual tour and/or professional images of your commercial real estate property. In addition to listing your agency on numerous websites such as Loopnet, your website is a feature on multiple other websites, and you have a long list of potential listing sites.

Use social media to promote the listing on Facebook, Twitter, and Pinterest.
A visit from an agent the first week the property is on the market.
#9. Work with a professional in the industry
Working with a commercial real estate professional is always a good idea, whether for buying or selling commercial real estate properties. Purchasing through an agent is always recommended as the buyer does not pay any commission to the buyer's agent. In the event you want to sell your commercial real estate property, there are several reasons why you should hire a real estate agent.
They have fiduciary responsibility.
Your real estate agent is obligated to act in the best interest of their client, regardless of whether they are a buyer or a seller. Hence, you should always expect your real estate agent to act in your best interest. Furthermore, since real estate agents are required by law to uphold a strict code of ethics, you can rest assured that they will protect your interests at all times.
They provide a wide range of knowledge
Today, anyone can go to the Internet and access a lot of information about any specific commercial real estate property or any commercial real estate property in any given area. Nevertheless, an agent will always have more information than anyone else at their fingertips because this is what they do day in and day out, regardless of how much information can be found online.
#10. Find the right lender for your property
Selecting the right real estate broker can be intimidating since it is likely the largest financial transaction in your life. However, it can be simplified by finding the right lender for your property. 
Even though there are competent lenders, you should hire someone that is very knowledgeable with the area and asset class you are trying to sell.
Hire or retain someone who has experience in the area. Only lenders who are more familiar with that region or county will also know the typical pitfalls of loans that try and get executed.
Getting a local expert can be as easy as asking a local brokerage that has sold many commercial real estate properties or businesses in the area. Also, consider looking at the commercial real estate magazines in your area to find lenders that advertise.
#11. Make sure there are no surprises in escrow
An escrow is a financial instrument held by a third party and two other parties during a transaction. It's like the seller, buyer, and lender are all tied together through a trust account, which makes everyone honest.
Escrow can take anywhere from one day to several months to years. Closing times may vary depending on factors such as whether a mortgage pre-approval has been obtained, whether all necessary documents are in hand, and the length of time required for underwriting. In addition, the process can differ depending on the state.
However, in any case, where there is a mistake in the escrow process, it can result in painful consequences, including starting the process all over again. 
To prevent this, get to know your escrow process well in advance and avoid potential pitfalls. By doing so, you'll be mentally, emotionally, and financially prepared for the finish line.
#12. Use Commercial Consult!
We're a dynamic group with a vision of simplifying real estate sales while providing top-notch services. We have a track record of providing ease in style to our clients. We have worked with all types of clients from smaller properties to very large properties over the years and have always proven reliable, speedy, and effective.
Whether you're looking to sell and/or buy commercial property, Commercial Consult can help save time, money, effort.
No matter whether you're a residential agent, a commercial broker, or an owner, Commercial Consult's network of 20,000 commercial real estate agents and brokers is at your disposal to help you get the best deal, expand your services, or give clients more value.
Now that you know these real estate selling tips, you are *guaranteed to sell your real estate property hitch-free. 
We are sure these tips will be helpful to prepare you to make the best of this advice and close that deal or sell your property faster. 
For more information and consultation, you can consult Commercial Consult today and avoid risking the consequences of not working with a professional and experienced partner.