When is the Best Time to Sell Commercial Real Estate?
Are you unsure about when you should sell your commercial real estate for maximum returns? Take note of the key indicators in the real estate market.
Are you weary of the complex processes involved in selling your commercial real estate property?
Recent statistics reveal that the commercial real estate industry in the United States currently stands at $889 billion.
There once lived a lazy man who was the king's friend. One morning, he asked the king "Why does everyone refuse me a job and tell me that I cannot do any work on time?" The king responded, "I'll make you a deal. Come to my treasury before sunset and get as many gold coins as you want."
Excited, the lazy man rushed home and told his wife everything the king said. In response, she said, "Go immediately and collect the gold. Time is gold."
"I can't go without first having lunch," the man said. After taking lunch, he took a 2-hour nap. Late in the afternoon, he picked up some bags and headed towards the king's treasury. Halfway there, he felt tired and hot so he sat under a tree to rest but ended up sleeping for 5 additional hours.
By the time he dragged himself to the king's treasury, it was already sunset and the gates had been shut.
He then realized he had lost a golden opportunity to be rich because he underestimated the value of time.
What is your reasoning for postponing the sale of your commercial real estate?
Real estate investments shouldn't be taken lightly.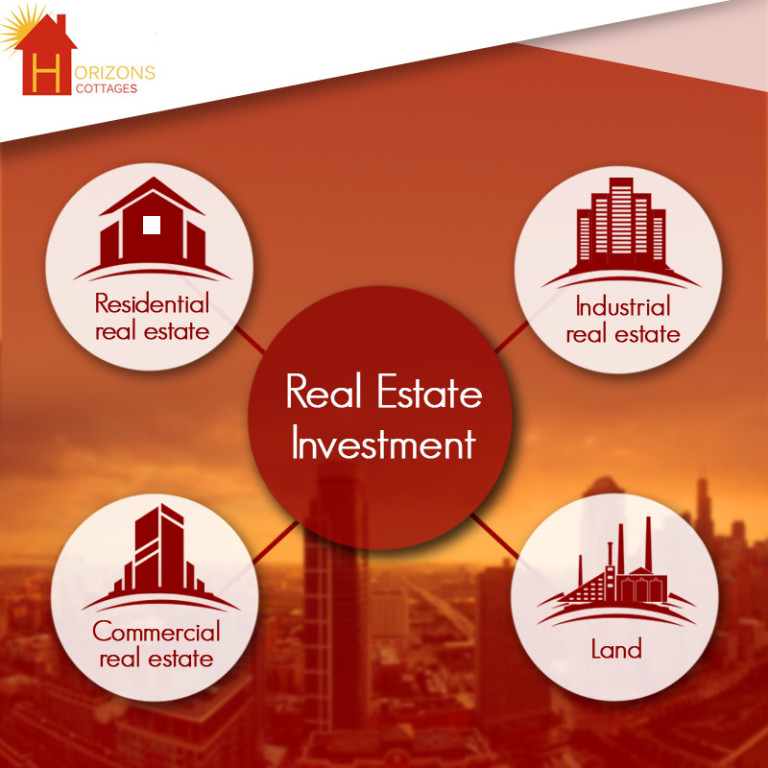 (Source: Horizons Cottages)
Most property owners are not even sure of the right time to list their commercial real estate. If you are still undecided on when is the best time to sell commercial real estate, you may lose a great opportunity, just like the man in our story.
In this article, we'll equip you with some tips that will help you to determine the best time to sell commercial real estate property.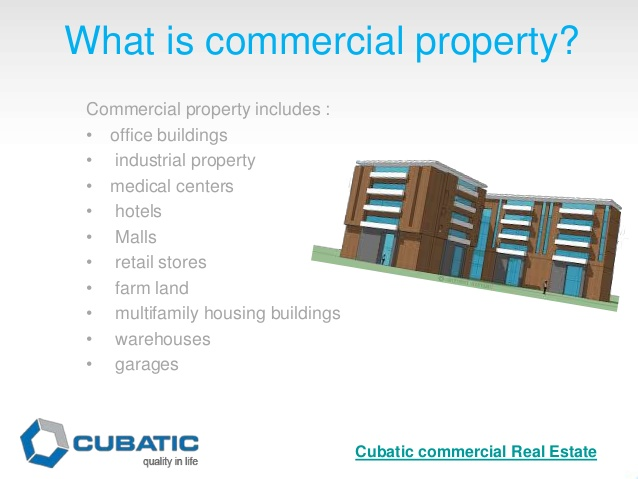 (Source: Slideshare)
Here's a quick outline of what we'll cover as we look into how to sell commercial real estate:
11 factors to consider when selling your commercial real estate
The best time to sell your commercial real estate
Reasons why you should sell your commercial real estate
Okay! Time to dive in.
11 Factors to Consider When Selling Commercial Real Estate
Selling commercial real estate property is quite different from selling residential real estate property. For more efficient sales and faster offloading of commercial real estate space at your disposal, you will want to partner with a professional group like Commercial Consult.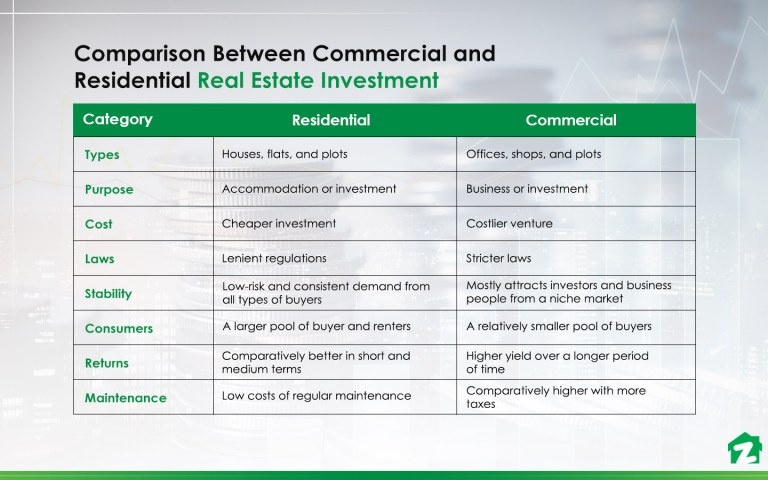 (Source: Zameen)
Wondering how to sell commercial real estate without a realtor?
You need to take these 10 factors into consideration:
1. Know your market
This is probably the first and most important factor you should consider.
How well do you know your market?
Understanding the commercial real estate market you are dealing with entails knowing the price that similar properties in your area are going for before listing your own property.
A thorough understanding of this factor will give you an advantage when you are putting your property up for sale.
2. Compare your property with similar properties
What are commercial properties similar to yours selling for?
Look at other commercial properties going up for sale around you, especially the ones similar to your property. Study its attributes and find out what the offer is.
This information will help you to assess your property better and determine the best price for it.
3. Refurbish your commercial property
Does the exterior of your property look good enough to create a good first impression?
If it doesn't, you need to enhance its curb appeal so that it attracts people and piques their interest in your commercial property. Do this before listing the property in the market.
Refurbishing your commercial property could include repainting both the  building's interior and exterior, fixing broken windows or fixtures, redoing the landscape, and repairing any issues with the floors.
Since it is easier to sell a fully functioning commercial building, you should get your property fixed and cleaned up before putting it up for sale.
4. Assess your commercial property value to investors
How valuable is your commercial property to investors?
Find out what unique features your property possesses and what the highest and best use would be for the property if it is vacant. If the building is occupied and you have a tenant, the value of the building will be assessed off the rental income and lease agreement signed by that tenant and you, the owner. Knowing the total land area of your property as well as the cost of maintaining the property is equally important.
When you put these pieces of information together, you can place a reasonable value on your commercial property. Then add this information to your commercial real estate listing so as to attract the right investors.
5. Understand the processes involved in appraising commercial real estate
Property appraisal is an important aspect of real estate.
Although the appraisal process for commercial real estate is more complicated than that of residential real estate, a thorough understanding of the process is essential when you have to sell your commercial property.
Get your property ready for inspections; the appraisers will check the records for public ownership and zoning, put together comparable sales, and then value the property based on both the last similar sales in the area and also the building's current lease income (if any).
You need to prepare beforehand to make sure the appraisers get all they need upon arrival such as – leases, similar sales you know of, any upgrades done on the property, etc. This will serve to hasten the appraisal process and save a lot of time.
6. Have all the necessary information about your commercial property
A commercial broker working on one of their listings will always be prepared with sufficient information about the property. When you meet with potential investors like the commercial broker, you should be equipped with specifications on the property as well as high-quality images, site plans, floor plans, leases, any upgrades and even a video of the property to show them.
This will get more interest in the property and help generate more interest.
7. Understand both sides of the transaction
Before making a commercial property sale, both parties will have to be on the same page.
You should have a conversation with your prospective buyers and ask important questions to find out what information they will need to complete the sale. Understand the needs of the other party and giving room for negotiation during your commercial real estate transaction process helps ensure a successful transaction.
8. Build and maintain solid relationships with other brokers
Relationships are important for all types of business transactions, but especially in the commercial real estate industry.
Closing a commercial real estate deal with clients can be quite difficult if you do not know the right people. All types of commercial real estate operate in a small niche because all good commercial brokers specialize very specifically in each asset class – multifamily, industrial, retail, office, hospitality, land etc.
Sometimes, all you need to close a deal could be knowing someone who knows prospective buyers for your commercial real estate. Building relationships with other brokers and competitors could help you get access to potential buyers but also off market properties to buy.
9. Prepare your paperwork
Is your paperwork in order?
Dealing with the paperwork of commercial real estate property is a stressful but necessary aspect of the sales process. Ensure that documents of your commercial property are well organized and updated.
Some of the documents to include in your paperwork include previous appraisals, permissions for site alterations, a copy of the property's title deed, tax information, utility bills, and copies of any leases.
Your level of preparedness will make an impression on your buyers and may either encourage or discourage them from doing business with you. The completeness and preparedness of your Offering Memorandum (OM) on the property will dictate interest levels for the property.
10. Marketing
You cannot expect to sell your commercial property without first marketing it. Both traditional and digital marketing strategies are important for meeting the right set of people who may be interested in buying your commercial property.
Traditional marketing methods you can use include:
Put up a 'For Sale" sign on your commercial property premises
Newspaper advertising
Billboard advertising
Transit advertising
Real estate magazine advertising
It is always good to combine your traditional marketing efforts with digital marketing. Here are some examples of digital marketing that will work for commercial real estate properties: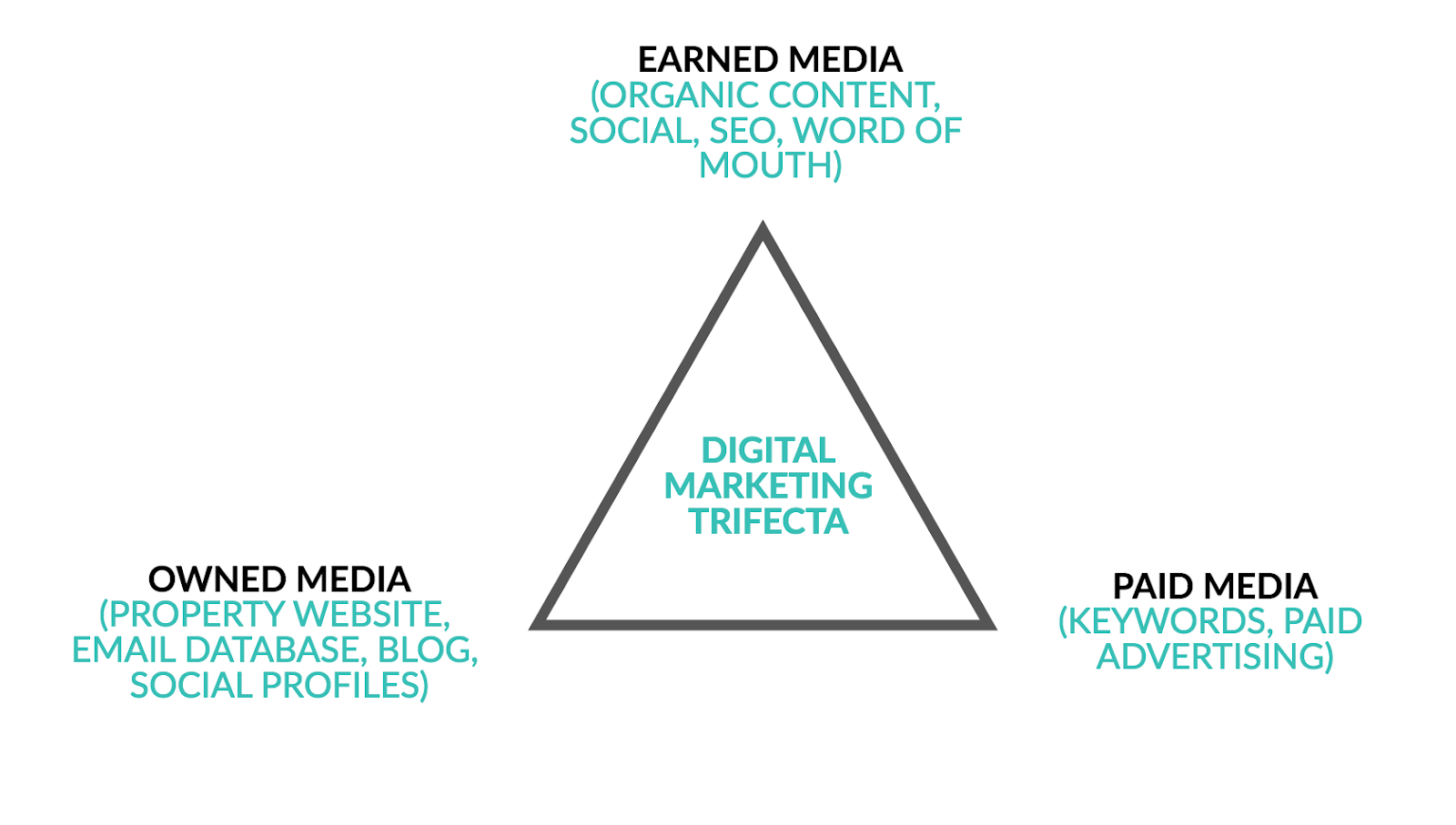 (Source: 5874Marketing)
Google Ads
Listings on online marketplaces and classified ad platforms
Ads on social media channels like Facebook, Instagram, and LinkedIn
Traditional Commercial Advertising Sites (Loopnet, Costar, Crexi, etc.)
Social media marketing and video marketing are some of the best strategies for your digital audience. With social media marketing, you can easily target a particular audience, while video marketing allows you to record the property and post it on your social media platform.
Combined, these strategies could give you an advantage over your competition and help you to close more deals.
11. Be patient
It is statistically proven that residential properties sell faster than commercial properties. It takes a more specialized process and a lot of work to sell commercial real estate. If you are willing to put in the work, however, you will find it worth your time and efforts.
Commercial Consult can help you through the entire process if you are too busy to sell your commercial property yourself.
The Best Time to Sell Your Commercial Real Estate
One thing about selling your commercial property is that it opens you up to lots of potential buyers. You will need to navigate a complex process with preparing, listing and marketing, communicating and negotiating with buyers, and preparing and executing a contract. Consulting an expert like Commercial Consult to manage the sales and advise you on when is the best time to sell commercial real estate will save you a lot of time and money in the long run.
If you have been wondering, "when is the best time to sell commercial real estate," you will be glad to know that there is no scientific formula that tells you the perfect time to sell your property. It will always depend on your current economic condition and it is always best to consult a professional that can take into consideration your entire financial picture to see if it makes sense.
There are, however, some conditions under which you will be more likely to make profitable sales.
Let's take a look at three of such conditions:
1. The Market
The conditions of the real estate market move around in cycles. With a key indicator like market comparables, you can determine what to expect when you are ready to sell your commercial property.
If your market comparables show downward trending cap rates, you could expect very good returns on investment.
However, note that your sales performance is not set in stone when you use any of the key predictors or indicators. They could still be influenced by outside factors, some in your control and some outside.
2. The Economic Cycle
It is not recommended to sell your commercial real estate at just any time of the year. The economic cycle of your area will determine when to put your commercial property up for sale.
The Statista Research Department published in its report that the COVID-19 crisis caused a dramatic decline in the United States commercial real estate market sales. According to the report, commercial real estate sales in the United States amounted to more than 400 billion U.S. dollars.
A recent International Monetary Fund (IMF) analysis also revealed that the pandemic resulted in a decline in the demand for brick-and-mortar retail and offices in favor of e-commerce and work-from-home policies respectively.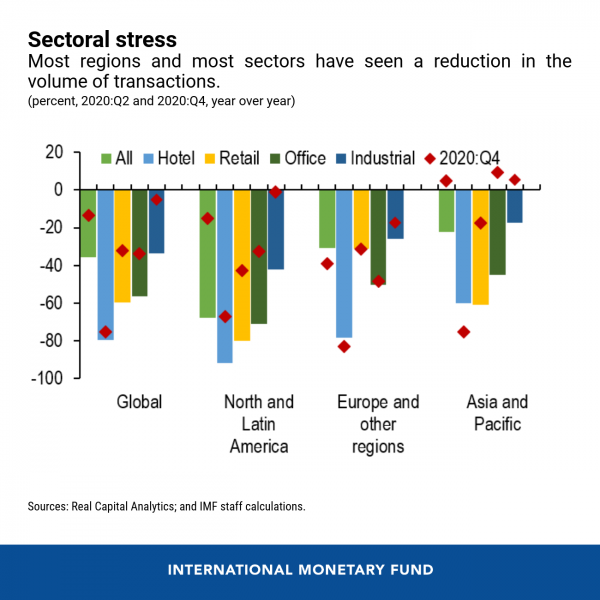 (Source: IMF)
There are key indicators such as vacancy rates and cap rates to help commercial real estate property sellers predict the economic cycle and know whether it is the best time to sell your property.
3. The Property Itself
Most buyers prefer commercial buildings that have long-term leases with triple A rated tenants because they are seen as lower-risk investments. On the other hand, buildings with lots of short-term leases or leases that are almost due are considered high-risk investments because they are very volatile for buyers, but also have advantages of being repositioned for new tenants that will pay higher market rents or even for buyers that want to occupy the building themselves.
Buyers are not likely to buy your commercial property if they cannot understand all the risks involved in owning the property.
Reasons Why You Should Sell Your Commercial Real Estate
Does selling your commercial real estate always have to be so long, time-consuming, and slow?
It doesn't have to be if you allow the experts to handle it for you. If your commercial real estate property falls under any of these four reasons, you should consider selling it:
When the property is at its highest potential income level
When its earning potential is depleted
The commercial property is fully depreciated
It is an underleveraged property (owner has a lot of equity)
Are You Ready To Sell Your Commercial Real Estate?
Like most important business decisions, you will need to work with a trusted real estate consultancy firm to take advantage of the timeline for your commercial real estate sale.
You can trust us here at Commercial Consult to help you sell your commercial property. With over a thousand completed commercial transactions under our belt, rest assured that you will get exactly what you want out of your real estate deal. Contact us now!