What You Must Know When Selling Commercial Real Estate
Selling your commercial real estate can be as lucrative as possible when you know all of your options. Knowing how to sell commercial real estate well can mean the difference between selling your property at a steep discount or selling it at above market price.
Experience and specialization are fundamental factors that influence how you navigate a sale of commercial property, ensuring you rake in as many profits as possible. This translates into the need for you to stay in the know as a residential agent trying to sell commercial real estate – understanding strategic ways to seal great deals, even from commercial real estate agents.
This article comprehensively explores a few tips that will help you sell commercial real estate the right way, ensuring you get the best possible return on investments.
Top 12 Things You Must Know When Selling Commercial Real Estate
The 12 tips below will help you become a boss at selling commercial real estate and making more-than-enough revenue from that venture:
Market yourself
Only what is marketed can be sold. It's nearly impossible to sell commercial real estate that isn't marketed for sales. As a residential real estate agent looking to sell commercial real estate, you are undoubtedly next to being a newbie in that sector. The same applies to commercial real estate owners who aren't familiar with the nitty-gritty of property marketing.
An excellent way to earn an edge over other competitors is by marketing yourself. This builds the trust of your potential clients in you, hoping to get the best sales from their investments. There are several ways to market yourself, whether digitally or traditionally.
Regardless of your marketing strategy, an appropriately-schemed marketing plan will help you reach the right audience, positioning yourself as the best person they can buy commercial real estate from. Technically, this should be a new concept to you if you are a residential real estate agent.
The first thing to know is never to underrate the power of marketing. Technically, it immensely influences the type of deal you eventually close! Marketing yourself puts you in the face of a prospective buyer even before they see the real estate – it's a way to acquire authority.
Market the Property
Having marketed yourself, do not sideline marketing the property you want to sell, too. They are in tandem with one another. Thankfully, there are various ways you can market your commercial property, thanks to technological advancements and IoT.
You can explore social media advertising, search engine optimization, listings, etc., put your property in the face of as many persons as possible. The more people see and engage with your property, the more your chances of selling such commercial property at a considerably fair price.
Another expert-proven way to market your commercial property is via email—cold calling. Apart from being engaging, this form of advertisement is touted to generate the most leads conversion.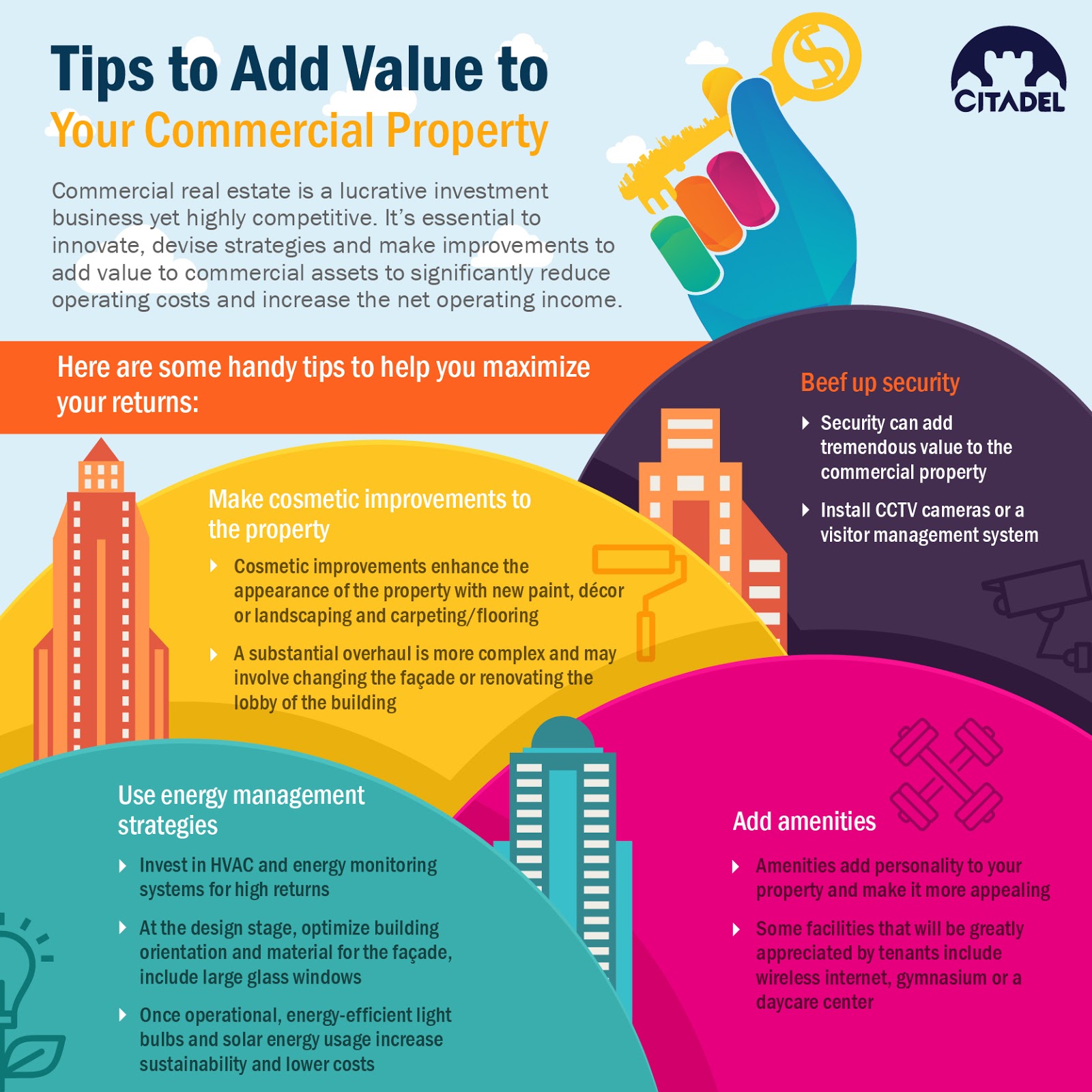 Source: citadelnetinc.com
Build a unique web presence
This also boils back to marketing – marketing yourself. Basically, the more you market your commercial real estate, the more your chances of getting it sold off as quickly as possible without failing to rake in your desired profit.
A dynamic web presence, adequately optimized and profiled, helps you put your commercial real estate up for sales in the most advertising way. Create a website (or landing page) about the property, filled with excellent photographs and videos.
An instant view of such web presence by potential buyers will invite them, making them feel assured that they are making the right decision to buy your commercial real estate.
Don't sideline online listings.
This is another sub-division of marketing yourself and ultimately building a unique and robust web presence. Building excellent online listings for the commercial real estate you want to sell helps such property to stand out, remain detailed, and prepared to receive the best possible buyer.
Ensure your listing contains details such as the last inspection reports, last repair, neighborhood condition, nearby businesses, and others. These details help to market your business without your presence. It helps a prospective buyer make informed decisions before contacting you.
Having a website (landing page) and filling out online listings help you engage potential clients in the best possible ways, keeping them hooked and interested in your property and eventually choosing to buy from you!
Choose a mentor
Inexperience is consequential to failing to sell your commercial property, or at worst, sell at a poor price; despite loads of information online about how to navigate through the commercial real estate sales industry, it's equally challenging to connect the dots all by oneself.
You need a mentor. Someone who has walked through the path in the past and is ready to hold you in hand also to walk you through the process. Apart from making it easier for you to sell your commercial property as quickly as possible, it's also a medium to gain access to the luxury of industry knowledge.
Find and build a strong relationship with an already established commercial real estate agent, and follow their footsteps painstakingly. Their experience will be instrumental as you try to land your (first) commercial real estate sales deal.
Mentors know what works and what doesn't work in the industry. They are equipped with both experience and expertise. A trusted mentor can equally help you develop the most efficient marketing strategy that works to help you sell commercial real estate as quickly and profiting as possible.
Enhance the appearance of your commercial property
The impression of potential buyers about your commercial real estate significantly influences their decision to buy your property or not and at what price to buy. Cater to how your commercial real estate appears on the outside.
Make the property more appealing. You can achieve this by repainting, repairing potholes, replacing doors and windows, watering the grass, etc.
It's a method established commercial real estate agents use to upsell their properties! You can keep your property's appearance as simple as possible, too – sometimes, "simple" sells more.
Keep learning
The learning curve never ends. Even with a mentor, you must be on your toes, equipping yourself with knowledge from other trusted sources. Selling commercial real estate might be maximally challenging if you don't have the right information and knowledge.
Also, the industry is rapidly expanding and experiencing new changes. You must ensure you are up-to-date with industry trends to take your selling game to the next level. Inexperience isn't overcome by sitting on your hands; it's by keeping up with the grind, ensuring you never stop learning.
The industry is wide; it's impossible to know it all – even your supposed mentor still learns. What matters the most is ensuring you are atop the latest and emerging developments that can influence how you sell your commercial real estate.
Get certified
This is particularly for beginner realtors. An excellent way to learn how to sell commercial properties is to earn the right certifications. This is also a part of investing in your knowledge, following the learning path nonstop.
Certifications you can consider include the Certified Commercial Investment Member (CCIM) certification, the Certified Real Estate Brokerage Manager (CRB), and others.
Being certified is a way to offer credibility and let potential buyers have solid trust in your expertise.
Set realistic goals
Another thing to know when selling commercial real estate is setting realistic goals. Don't exaggerate your expectations. While it's advisable to aim big, be smart about it.
Several commercial real estates offer more significant benefits than those juicy urban sales you fantasize about. Small retail properties, light industrial buildings, and even farming operations are great commercial properties that can rake in optimal profits for you. The big fishes know this; how many beginners do? You should!
This also links back to continuous learning. Understanding the industry will help you to identify commercial properties you should pick interest in. However, setting realistic goals doesn't translate to choosing mediocrity. No. instead, it's to embrace the process, making it one at a time.
Your first commercial real estate sale will most likely not be "great." However, it is just a step further to scaling your business and even closing more better deals, even as a residential real estate agent.
Selling commercial real estate might warrant you work extra hours. An extravagant expectation might cause you to burn yourself out, working endlessly. You need to work smart instead of working hard – it starts with setting a realistic expectation.
Grant virtual tours
To sell a commercial property, you might need to work with several prospective buyers across various locations worldwide. Having developed and painstakingly followed an excellent marketing strategy, what's next is considering virtual tours to increase your chances to upsell such a property optimally.
Virtual tours let you have a somewhat personal experience with any potential buyer, answering their questions and letting them have a detailed view of the property without having to visit.
It also creates competition. When other buyers see how many of them are interested in your commercial property, they tend to make offers as quickly as possible. You can capitalize on such a situation to upsell your commercial property!
Join Commercial Real Estate Agents Clubs
As mentioned earlier, learning never stops. It is instrumental to mastering the art of selling commercial properties. Another step further on the learning curve is joining real estate clubs.
This may include attending commercial real estate events, workshops, etc. Belonging to a community of like minds also positions you for more opportunity and access to a broader information base.
Have fun
Finally, have fun! Undoubtedly, selling your commercial real estate can be as severely challenging as possible. Regardless, don't forget to have fun throughout the process – it's a way to open your mind to more possibilities and develop better strategies. Take intentional efforts to eliminate stress as much as possible.
Bonus Tips:
The following tips have also proven to help other individuals sell their commercial real estate as comfortably, quickly, and profitable as possible.
Build Relationships: Nothing beats belonging to a community of like minds. Build strong relationships with others, whether those more experienced than you or otherwise. It's a way to open yourself up for more opportunities. Check numbers 5 & 11 in the previous section.  
Understand the Appraisal Process: It's somewhat impossible to predict commercial property appraisals. Hence, do not assume. Instead, ensure you deeply understand the process before agreeing to any figures.
Gather all paperwork: No one is willing to buy properties without the required documents. Ensure all the necessary documents are readily available before pushing to sell your commercial property. This paperwork includes tax information, permits, lease agreements, bills, debts reports, past appraisals, and others.
Understand your market: This is another essential aspect you must know while selling commercial property. Ensure you know and understand your market, identifying similar properties, the neighborhood, etc., before you start marketing your property to potential buyers.
Compare similar properties: This will help you know the right asking price for your commercial property. You will know if you are pricing your commercial real estate too low or too high. You can also determine the chances of your property by comparing such property to other competitors. This way, you can identify possible enhancements to carry out on your real estate.
Be Patient: Patience is critical and can never be exaggerated. Don't rush into selling without being adequately prepared. The tips explored in this article will help you get prepared to sell your commercial property. A prepared seller excites a potential buyer!
Final Thoughts
As a commercial real estate owner looking to sell your property, you must understand the essence of research, marketing, and relationships, as discussed in this article. Understanding how the commercial real estate market works, too, is instrumental. This also applies to residential property realtors looking to find commercial properties for their clients.
Selling a commercial property requires top-notch skill and excellent negotiation power to seal a "perfect" deal. While it might be a truckload of work, it is worthwhile!
Commercial Consult can help you with the right service and guidance needed if you are ready to sell commercial real estate. We work tirelessly to help property owners sell their commercial properties as quickly and profitable as possible.