How to Sell Your Restaurant and What Is Involved in the Process
Undoubtedly, regardless of how perfectly positioned or marketed, selling a restaurant isn't as easy as selling a car or home. It's a time-intensive process that can take up to a few months to complete.
To sell your restaurant surpasses appropriately preparing your paperwork, as popularly believed. Instead, it also cuts across implementing an efficient marketing strategy, having a considerably deep knowledge of your business, and perhaps a professional help to ensure you sell your commercial property for the best price.
Summarily, selling your restaurant requires finesse. As a restaurant owner seeking to sell your commercial property, whether via an agent or by yourself, you must ensure you are atop your game to find the most qualified buyers in the market. This includes being market savvy, having reliable and direct means to identify potential buyers, etc. This article comprehensively explores how you can sell your restaurant business as quickly as possible and for the most amount, you may be an owner of a restaurant or even own the building.
Without any further ado, let's get straight into it!
Firstly, Why Are You Selling Your Restaurant?
Businesses often experience certain obstacles; while some might be overcome, some constitute optimal threats to the continuity of such a business. Typically, there are several reasons to sell your restaurants, ranging from illness to burnouts, economic conditions or unfavorable governmental policies, partnership disputes, and others. However, unlike most people think, selling your restaurant doesn't automatically translate to going out of business – you might want to channel your energy to another venture or decide to retire.
Regardless of what the situation might be if you must sell, ensure you are selling to the right buyer which will mean the highest profit for yourself.
Who Is a Potential Restaurant Buyer?
Literally, anyone can buy your restaurant: your friend, lawyer, accountant…just anybody! Like other business transactions, restaurant sales also start from word of mouth. Since anybody can be a buyer, begin by telling people – anyone who cares to know.
Anyone you tell, whether interested or otherwise, might know interested persons. While several persons want to buy a restaurant, the challenging part is identifying who wants to buy "your" restaurant and at market price.
Having settled on selling your restaurant and also having an idea of who might be your restaurant's buyer, the big question is, how do you pull the best sale off?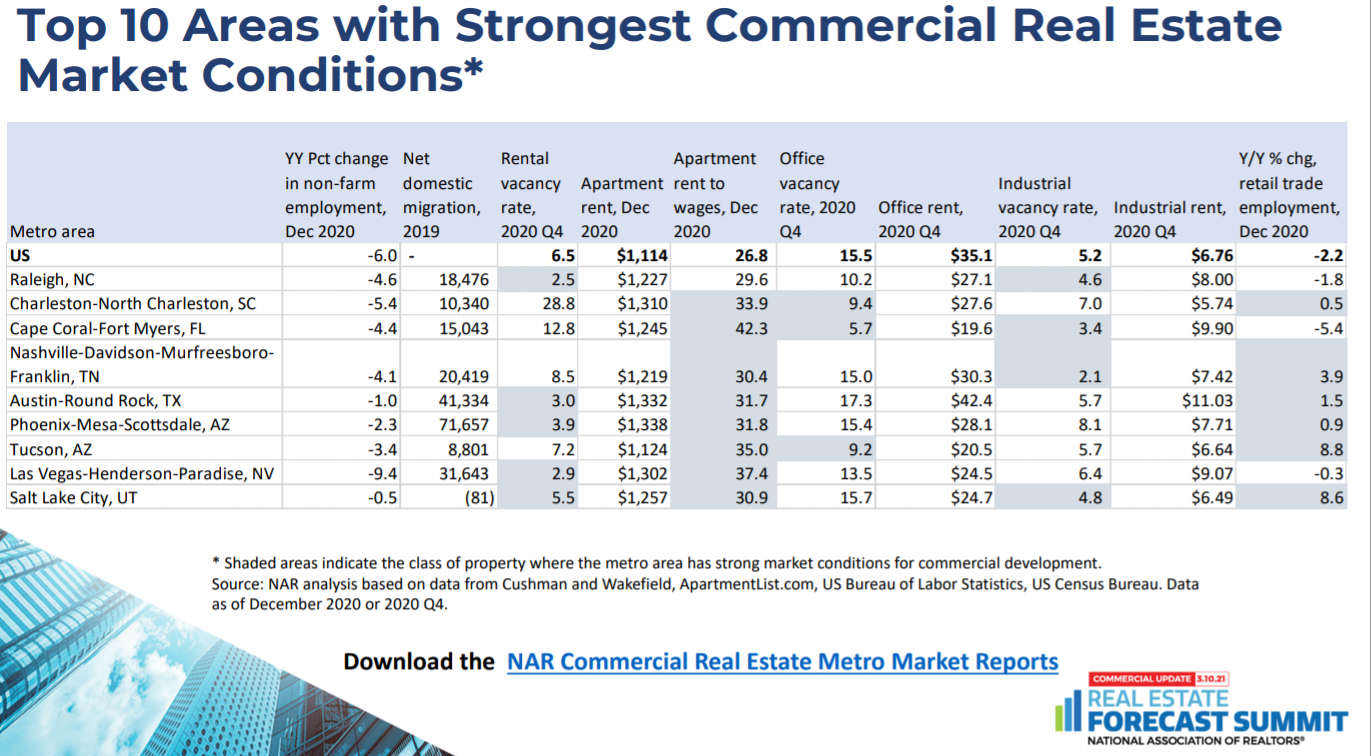 Source: NAR.realtor
How To Sell Your Restaurant
Below is a detailed outline of the step-by-step process of selling your restaurant, as recommended by the experts at Commercial Consult.
Gather Paperwork
Having decided to sell your restaurant, the first step to take is to gather the required paperwork. Thankfully, paperwork varies, depending on your state. Nonetheless, below are the documents we advise you to gather in preparation for a ready buyer:
List of assets
Copies of applicable licenses, such as sidewalk patio permits, liquor licenses, etc.
A copy of your lease.
Your financial statements.
Health inspection records.
The restaurant's architectural plan.
Other essential financial paperwork.
As mentioned above, not all buyers need every document on this list; you may need to have them for exceptional cases.
Apart from preparedness for a potential buyer, having these documents up-to-date and complete will give you a comprehensive insight into knowing the exact value of your restaurant, allowing you to see your business from a buyer's perspective. This way, you have just positioned yourself to close a deal in your favor.
Ask yourself the following questions when compiling your paperwork:
Are my licenses compliant and up-to-date?
Are my finances in order?
What's the overall performance of my financial records?
Does my health inspection record perfectly reflect my potential buyers' desires?
Prepare your Financials
This is a crucial part of all businesses. Every business owner sets out to primarily make money – hence, your business financials should be prioritized. Buyers need to know what they are venturing into. Ensure you prepare your financials, dated back to as far as possible – at least a year, but preferably three. Most importantly, confirm the orderliness and accuracy of such records as a buyer will determine their valuation off these numbers.
Your business financials include your equipment and furniture inventory (FF&E), cash transactions, loss and profit statements, bank statements, tax documents, and others.
We recommend that you start preparing these documents as soon as you conclude your thoughts of selling your restaurants, as appropriately presented financials significantly influence your sale.
Another essential thing to include is your liabilities. It stems from being expressively open to your buyers to ensure both parties understand what they are getting into. Liabilities such as back taxes, debts, impending repair costs, etc., are very crucial and might result in litigation issues should your eventual buyer discover liabilities they didn't sign up for after claiming ownership of your commercial property.
Are your financial records handwritten? Ensure they are neatly kept (in a ledger). However, we think it is better to invest in a computerized spreadsheet or accounting software to ensure the accuracy, security, and availability of such information. In essence, apart from being impeccable with your finances, ensure they're timely presented and also in digital format.
Understand Your Lease Agreement
The lease of your restaurant is a crucial factor in selling your commercial property. Are you under any lease agreement? Are you currently month to month with your landlord? Do you have 3 years left on a lease? And do you have any options left to exercise? If yes, you must understand the terms of such an agreement before you consider selling your business. This stems from familiarizing yourself with your applicable legal rights; otherwise, you might be at certain risks, such as a sales stop by your landlord if it was written into the lease that the landlord has to approve any sale as the new owner will now be their new tenant.
To be better positioned, we recommend a lawyer's involvement to ensure a hitch-free sales process. You might also consider informing your landlord about your plans, requesting an extended lease, or thereabout.
Update Your Restaurant
Most restaurant owners don't bother about the state of their restaurant when putting it out for sale. This is understandable as owners do not want to put any more money into something they will sell. Logically, the better the condition of your restaurant, the better the kind of buyer it would attract, and ultimately the more money you will generate from its sale, but it matters which items you spend money on and which you don't. So, yes, consider updating your restaurant's condition first before putting it out for sale.
Presentation is essential. The market is inarguably saturated, with every seller looking to hijack the next possible buyer. What would be your restaurant's Unique Selling Proposition, USP? Put yourself in a prospective buyer's shoe and see if your restaurant is buyable in its present condition or it needs an upgrade to bring it to top condition.
Be intentional about modifying the first impression your restaurant offers potential buyers. Ask questions: how clean is your dining area? What does the ventilation of the environment look like? How functional is your equipment? Does your restaurant have a website? Etc.
Summarily, the essence of presentation, especially in commercial property sales, cannot be exaggerated. Polish your restaurants with necessary upgrades, repairs, and improvements to scale their appeal to potential buyers!
Market Your Restaurant
Marketing is the most important factor when trying to sell for the highest amount in the least amount of time. If no one sees your restaurant for sale, no one can place an offer on it. Having completed and compiled the paperwork, done the necessary upgrades, etc., the next step is developing a sales strategy to help you sell your restaurant at the best possible price. As the owner, you must have known your business' best-selling point. Now is the best time to capitalize on it to sell it off. However, there might be more to your business than what you see; to efficiently market your restaurant for sales, you must start seeing your business from a buyer's perspective. This makes you conveniently fit into a buyer's situation, identifying their pain points and strategically positioning your restaurant to solve such pain points through marketing. Websites like www.BizBuySell.com can help you get your restaurant listing out to a wide audience depending on how much you pay to market on the site.
How to Market Your Restaurant for Sales
How you market your restaurant is consequential to the type of deal you would eventually seal. An excellent marketing strategy would help you sell your commercial property at the best possible price. Below are a few things to consider when developing a sales plan for your restaurant:
What's your restaurant's location offering?: Most commercial property sellers underrate the importance of having a good location. Factually, from experience, we have realized that "good" location significantly influences buyers' decisions. Noteworthily, the meaning of "good" location is relative. Hence, as the restaurant owner, the onus lies in you to define what is good about your restaurant's location and why potential buyers should buy your business.
What Unique Features Does Your Restaurant Have?: Every business is unique in its way. If you think otherwise, it is most likely you haven't identified your restaurant's uniqueness. To effectively market your business, you must know the unique features a buyer would enjoy and explore such features to your advantage. Restaurant features that attract buyers including but not limited to:

Music stage.
Semi-outdoor or outdoor patio.
Great ambiance.
Potential event space.
Popularity.
Customer database, etc.
Scarcity: Consider scarcity and reasonably exploit it to your advantage. How do we mean? Sometimes, making a perfect sale isn't about what you are offering but what your competitors (other restaurant owners looking to sell their business) do not have that you have. Hence, examine your restaurant comparatively with other competitors looking to sell; what's their want that you have? Technically, such want is the scarcity in the market, too, that buyers are most likely seeking. Use it to your advantage in a sale. For instance, it might be limited liquor licenses, patio licenses, ample space, etc. This might also double as your unique selling point, as explained in the last bullet point.
What Lifestyle Will Your Prospective Buyer Receive?: Of course, persons seeking to buy your business also want to make a profit from such a business, turning it into an income stream. While a potential buyer knows the need to implement new policies et al. for the business operation to suit his preferences and business plan, such a buyer would appreciate it if your restaurant already has a defined approach to business, a category, and other large-managerial implementations in place. Marketing such a feasible lifestyle as what your restaurant will offer is another great way to attract great commercial property buyers!
Appraisal
Another essential aspect you must consider when seeking to sell your restaurant is the appraisal. The big question, therefore, is, how do you appraise your restaurant? Technically, after developing an excellent marketing strategy, the next thing is to set a price. However, this process can be somewhat tricky, as you don't want to price your restaurant too high or too low.
When setting a price, ensure you consider everything about your restaurant, including the physical assets, potential sales generation, customer base, etc. Determining the value of your physical assets has proven to be the easiest part of the process. Besides, ensure you have a backup for all your financial claims – this lets you convince your buyers that the price you set for your restaurant is reasonably fair.
After this, you should also consider a few other factors that can influence your appraisal, including the respect value of your brand, the change of name cost, the comparative selling price, and others.
Bonus Tip: Hire A Professional Broker
Of course, you might have the just needed experience to seal the best sales deal for your restaurant. However, we advise you to hire a professional broker. Professional brokers that specialize in restaurant sales offer several advantages, including helping you find qualified buyers, ensure discreet restaurant sales preparation, effective marketing, etc. They may even know several buyers for your restaurant already looking as they are in the business every day. It is important to connect with one that is knowledgeable on your type of restaurant and also well versed in the local market. The best place to find this specialist is Commercial Consult. 
Final Thoughts
Selling your restaurant requires diligent homework and research to get the best deal. Similarly, you must understand that your prospective buyers carry out proper research to influence their buying decision. The importance of research can never be overemphasized. This, therefore, directs us to the need to be very intentional and painstaking during the sales process. Ensure you have properly planned out the entire process before you begin. Summarily, we hope this article will carefully guide you throughout the sales process, helping you understand the exact way to sell your restaurant and every other thing involved in the process.
Should you need further information, inquiries, or questions about selling your commercial property, do not hesitate to contact the real estate consulting experts.