Selling Commercial Real Estate? 24 Practical Techniques to BOOST YOUR ROI on 5 Different Property Types
Everyone wants to buy low and sell high. Selling commercial real estate assets is no different, and making the decision to sell is a big one.
Commercial real estate, after all, may be a profitable investment with consistent cash flow, but if you've received an offer or another investment possibility has piqued your interest then it may make sense to sell… Before selling a commercial property, you must be prepared for any scenario that may occur.
The sale of commercial real estate is not as straightforward as the selling of a residential home or a stock portfolio. Offloading such a large asset takes time and careful thought, as usually larger sums of money are involved in commercial real estate sales. Governments at all levels, federal, state, and local, aim to collect taxes wherever they can in these types of transactions.
As straightforward as this type of transaction may appear, there is a great deal of complexity involved. To make the most out of your commercial property sale, you must first employ a strategy to increase its market price as much as possible through increasing the income of the property, decreasing its expenses, or improving the building itself by remodeling or refurbishing.
Another method of increasing value is converting its current use to another higher-valued use, for example, a hotel could be converted to an apartment building or a retail store could be converted to a restaurant. If the overall net income of the building increases then the overall value of the building has increased as well.
In this article, we will show you 20+ practical and proven techniques you can use to increase your ROI on 5 different commercial property types such as Industrial/Warehouse Space, Retail, Office Buildings, Land, and Apartment Buildings.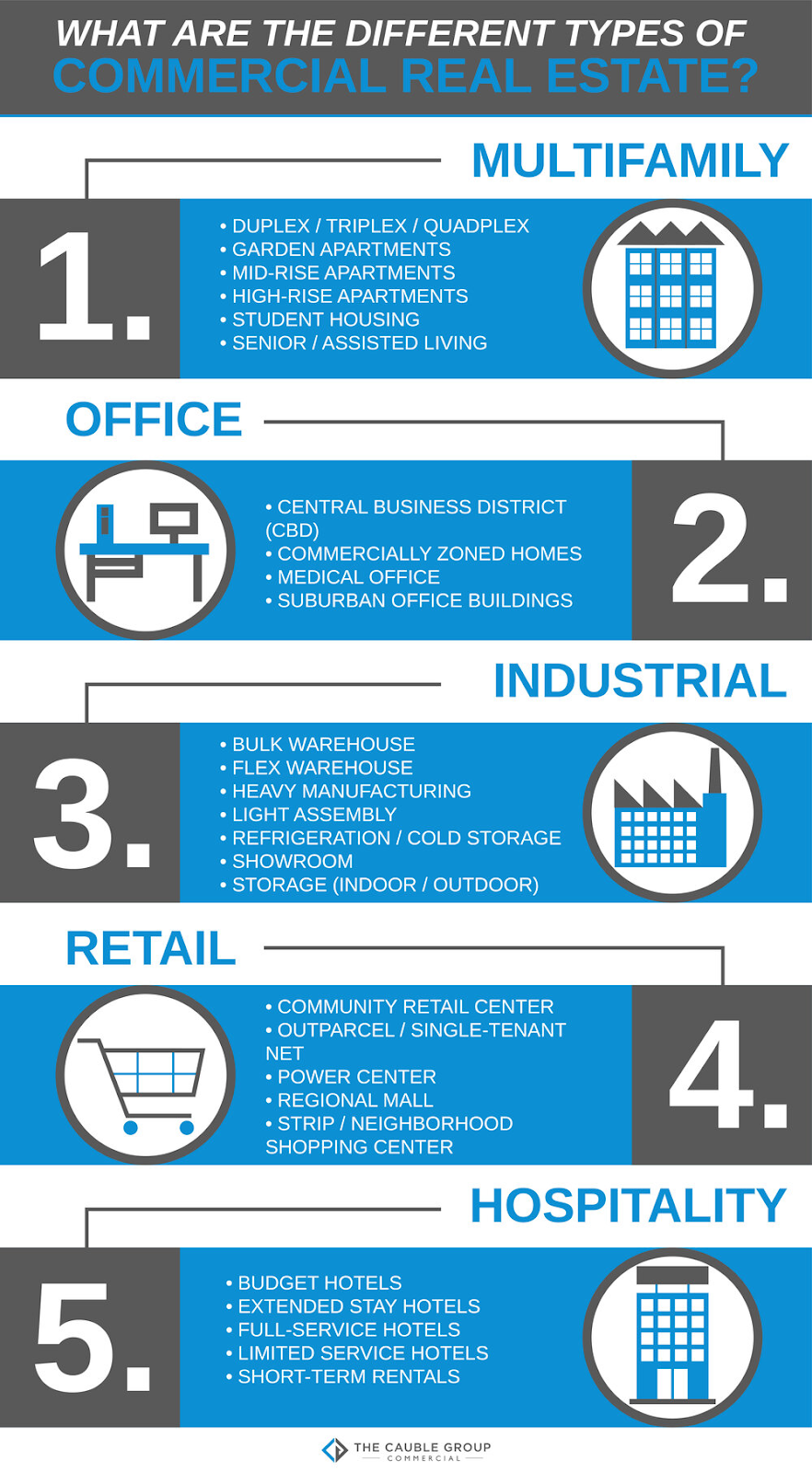 Source: The Cauble Group
General but essential value-adding techniques for Selling Commercial Real Estate
While many renovations are unique to each property, there are a few recommendations for selling commercial real estate that apply to all types of properties. Here are six of the most obvious but crucial suggestions:
Optimize for Operational Efficiency
Increasing operational efficiency might cost money upfront, but it can also increase value to a commercial property over time, making it an excellent area to work on for commercial property owners looking to earn a huge profit from selling their commercial property.
Lowering operational expenses is a fantastic method to increase value for commercial property owners on full-service (FSG) leases since the savings go straight to the bottom line; even triple-net (NNN) buildings may add value via operational efficiency on re-leasing by delivering reduced occupancy expenses to tenants or purchasers.
Use Energy Efficient Lighting
Although this won't pay off your mortgage immediately, adding energy-efficient lighting to a commercial real estate property's infrastructure is one of the simplest methods to increase value. The correct light fixtures can help you save energy while also lowering your maintenance expenses.
LED lights, in my opinion, are the single most cost-effective approach to enhance both actual and potential value to any commercial property facility.
For starters, today's buyers are more environmentally concerned than ever before. As a result, the average buyer will value the environmentally friendly atmosphere provided by your commercial property. Their gratitude should not be overlooked, since it contributes significantly to demand generation and a larger buyer pool. After all, what good is a fantastic commercial real estate property if it doesn't attract multiple buyers? There's no denying that demand may make or break a property's worth.
Make Parking Easier
Few facilities are more important to the value of a commercial property than a convenient parking space, yet it's being ignored more often than I'd like to admit. Parking is something we take for granted and don't realize how valuable it is until it's gone.
A commercial real estate site with parking is expected, no matter the situation. Those who do not have access to parking, on the other hand, have a far lower probability of getting a higher property value estimation. If you don't provide parking, you're just harming your prospects of finding customers. As a result, the value of your properties may be less than a site that offers parking on the property.
Your commercial real estate (CRE) properties do not only require parking, but it also needs parking that is handy. You're ahead of the game if your CRE property already has access to convenient parking space. If, on the other hand, your commercial property lacks good parking space, it may be in your best interests to correct the problem by working with nearby sites that offer parking or even building a parking site for your property.
Where feasible, consider increasing the parking spaces. A little effort may go a long way, whether it's the addition of a few street spaces or a tiny parking lot. At the absolute least, failing to offer parking may reduce the value of your commercial property just as much as providing a few spaces may increase it.
Fix All Noticeable Issues
Fixing any conspicuous flaws or small maintenance issues may be the most obvious and notable recommendation. Mowing the grass, putting up appealing signs, and clearing the debris are just a few of the responsibilities that an owner should employ if they want top dollar for their property.
Improve Security
Adding security features such as gates, shutters, and alarms to your building will increase its value to potential purchasers or renters, making the property more desirable to buyers or tenants. Improving security will almost certainly lower the property's insurance rate. Private security guards may be beneficial in some locations as well.
Upgrade your building's signage.
As visitors approach or enter your building, this is usually the first thing they notice. A sign that is difficult to see is obscured by shrubs and other landscape features or is damaged can reduce the value of your home.
Research new materials, aesthetic concepts, sizes, and positioning options for your new sign. Your property's character, charm, and attractiveness may all be enhanced by naming it. Consider modifying it to incorporate a geographical location, a street name, or a historical component.
1: Apartment Buildings
There are several strategies that are unique to selling and improving the value of multifamily properties., here is some advice to consider:
Give it a fresh look.
A new coat of neutral paint inside and outside on walls can make your the unit appear brighter and larger and on the exterior can make the building look brand new even if it is 30-50 years old. On the inside, it will make it easier for visitors to picture how they might customize the rooms to suit their requirements. If the walls do not appear pleasant or an off putting color is used, it would be more difficult to get the tenant's interest in staying at the property, which will lead to less demand for the units, which will lead to lower rents, which will lead to a lower valuation for the property.
Good first impressions count. 
Basics like a broken, rusted, or defective gate, as well as overgrown grass, should be cleaned up. You can complete these chores at a little cost that will pay off significantly when a buyer views the property to purchase.
Consider employing water-saving techniques.
Sink faucets, low-flow showerheads, and dual-flush toilets are among the upgrades that could enhance efficiency and save thousands of gallons of water each year. These kinds of renovations appeal to buyers since they eliminate the need for future modifications and save money, adding to their bottom line.
Add convenience machines to the facility. 
The addition of dryers, washers, and vending machines as part of the building facilities could be a big deal. Tenants benefit from having access to washers and dryers because it makes their lives easier. Vending machines should be strategically placed in a common area in the apartment; these add-ons will help you promote and sell an apartment to potential buyers faster.
2: Land
Selling land which is commercially zoned, particularly rural land or farmland, may require you to get your hands dirty. Outdoor aesthetics are crucial when selling land. Rather than focusing on how to set the scene within a structure, the following suggestions focus on how to invest in land or farm maintenance prior to a sale in order to increase the land value.
Consider fixing the property pathway.
It's critical to make sure the pavement is good while displaying the pathway of the land for sale. Getting rid of snags may cost money upfront, but the investment will pay off in the long run. Manage any weeds and invasive brush that may grow, particularly along the path and near any other attractions on the site. Investing in this work ahead of time guarantees that the land's features appeal to any possible buyers.
Keep it in good shape.
If the land already has a farm or structure, it should not seem shabby or run down. Clean the inside and outside of the house, and get rid of any clutter (e.g., machines, trash, and wood). Make sure that any electrical devices on the commercial property, such as water troughs and lighting, are in good working order.
Adding of appealing features.
Adding pleasant touches to rural land property, such as new trees, fences, and man-made ponds increases its desirability. Take it a step further and offer a utility option; testing the land for septic system allowance and installing water lines might help you sell land for more money.
Zoning
Changing the zoning on a piece of land to something more useful can also add greatly to the overall value. For example, if a piece of land is zoned agricultural, but the owner takes it through the process of rezoning it to allow an office building then the land's value may increase ten fold.
3: Office Building
When it comes to selling office space, a messy workplace is a stressful office, and there is no potential buyer that will want to invest in a property that has a negative feel. To avoid this scenario, adopt these recommendations to get your office building ready for sale that could generate great ROI:
Consider Investing in furniture. 
Investing in that old, sagging couch and damaged coffee table in the lobby might be a significant factor that could influence buyer decision. Other suggestions include removing and replacing any dead or overgrown plants, as well as replacing any water-stained ceiling or damaged floor tiles. Desks should be kept cleaned properly and other office items if the area is being utilized.
Make the Painting and Surrounding appear pleasant.
Painting the office room with eye-catching colors and nice color blending will appeal to the eye. Professional tenant signs are another simple detail that makes a huge impact. Signs should be current and pleasant to the eye. Furthermore, the structure should be made to appear pleasant and comfortable by surrounding exterior signage, colorful flowers, and well-kept landscaping.
Keep it Clean! 
Cleaning is important for all office building properties; potential purchasers will pay special attention to the cleanliness of office buildings. Buyers will assume there are issues behind the walls if they can see issues out in the open. Begin in the lobby, where you should clean all furnishings, wash the carpets, and dust off any plants.
Bathrooms, janitorial closets, and mechanical rooms are also places to pay attention to. Many people who are selling commercial real estate, overlook these areas to focus on just the areas in the open. Don't overlook these crucial places.
If a buyer discovers these areas in bad condition, it might rapidly lead them to assume that the building has further issues that may or may not exist and this will more than likely cause them to renegotiate pricing.
4: Industrial/Warehouse Space
Compared to other forms of real estate, the sale of warehouse space or industrial assets is less reliant on interior aesthetics. Below are some steps to take when selling a warehouse or industrial building:
Consider making the exterior building look attractive. 
Looking at an industrial building with shattered graffiti and windows isn't going to bring in a lot of interested buyers who want to pay top market price. Cleaning, painting, and repairing any damaged items are all low-cost options that will definitely attract buyers.
Make your signage stand out. 
Having known that industrial space isn't usually the most attractive structure, there is a lot that can be done to improve the outside look and make the property more welcoming. When selling commercial real estate, large, professional-looking signage flanked by colorful flowers or well-landscaped grass will improve curb appeal.
Consider the usage of energy-saving features. 
Fully automated, energy-saving features like temperature control and light timers have a little upfront cost but save a lot of money in the long run. Buyers like the power to switch off the building's air conditioning system automatically, as well as the capacity to turn off the lights when the facility isn't in use.
Make sure the roof is in good shape.
Invest in your roof; the roof is the most important component of a structure to purchasers, out of all the sections and characteristics. Whether you need to rebuild your roof or repair cracked or missing shingles, this is one of the more expensive upgrades that pay off big time.
5: Retail
Owners of retail space are either working towards (1) attracting consumers or (2) attracting renters who plan to draw customers, which sets them apart from other forms of commercial real estate. Consider the following suggestions to improve your chances of selling Retail/Restaurant Storefront:
Maintain a professional-looking appearance.
The requirement for a professional, prepared presentation goes hand in hand with de-cluttering. Similar to staging a home, you want purchasers to be able to see the potential of your property.
Try a new, neutral coat of paint in key spots throughout the shop, along with a few objects and decorations that connect to the business's concept. Also, remember to clean both the building's interior and exterior features.
Cleaning up the parking lot is a good idea.
While the structure should receive the most attention, the parking lot should also be prioritized. Access to a clean, sufficient parking lot is a significant appeal for retail and restaurant establishments for sale. Consider repainting the lines, resealing the parking lot, and repairing any potholes.
Clear out the inside.
When it comes to staging, retail and restaurants demand a basic approach. Demonstrate the building's fundamentals in a way that maximizes its potential utility. To get this impression, clear clutter from all areas, especially storage areas.
Consider Highlighting the location. 
Because of its accessibility to a client base, the location of a shop or restaurant can be as essential as physical property. Therefore, when selling retail properties always make sure you highlight all-important location information surrounding the property that could attract the buyer
Final Thought: Selling Commercial Real Estate- shouldn't be that hard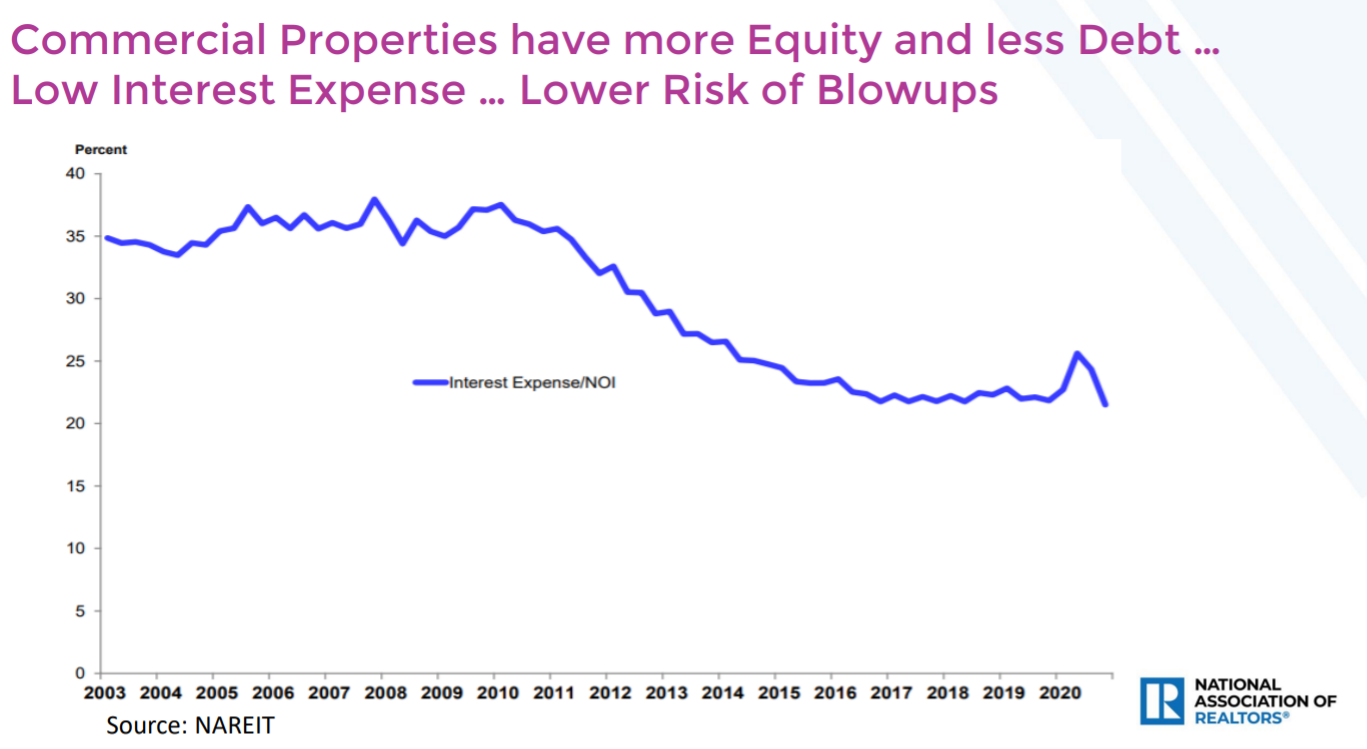 Source: NAR.realtor
Knowing that the selling of commercial properties is not an easy task. It takes a lot of complicated steps which are very specific to the type of property you have and where the property lies. Fortunately, when preparing your commercial property for sale, there are several professional commercial real estate consulting companies out there committed to making your commercial real estate properties' sales journey easier; one of them is Commercial Consult. Reaching out to a knowledgeable resource that can help you from the beginning of the process is always beneficial.
In addition to that, when making renovations to your property, you should always take the time to record each stage of the process. Before and after pictures, including the receipt for any construction, maintenance, or upgrades, as well as structural modifications, should be kept safe somewhere.
Make a spreadsheet with as much detail as possible for each item. You'll be pleased you kept these documents in a safe place when it's time for a CRE assessment by a commercial real estate company.