How to Spruce Up Your Office Building When It's Time to Sell
You can't deny that real estate is one of the best investments you can make. You can almost always guarantee a healthy return on your investment if you do it right, whether you buy and sell properties or buy and lease them out to others. Property investments, especially in commercial property, are a great way to increase your wealth.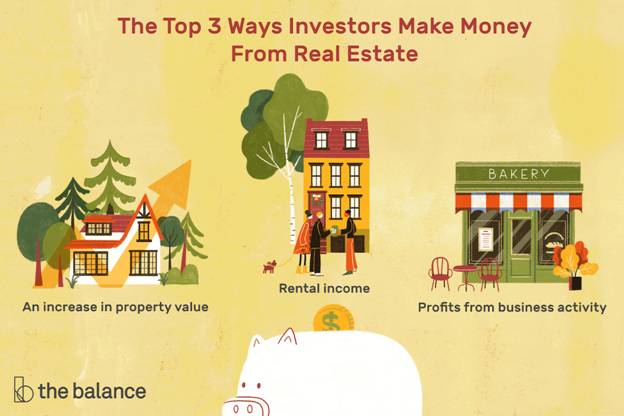 Source: The Balance
Unfortunately, some investors fail to realize the value of making their properties more attractive to potential buyers and tenants. As a result, they're expected to lose a lot of money. This blog post is likely of interest to you today because you wish to ensure that the potential customers of your commercial property are as impressed as possible.
Real estate developers' goal is to make offices feel like homes – literally. An analysis by apartment-search site RentCafe found that 41% of apartment conversions, or turning non-residential buildings into apartments, were from office spaces.
During the last two years, 2,750 new rental units have been built due to the redevelopment of ex-office buildings. This process of converting an existing office building into something new is called "adaptive reuse".
Tracey Hadden Loh, a Brookings Metro fellow who studies commercial real estate, says that the figures are part of a trend that goes back over a decade. According to her, workplaces have been swapping private offices for open plans for years, decreasing the number of space businesses give to each worker. Consolidation of office space leads to building owners scrambling for tenants, which sometimes means retaining residential customers.
This trend may accelerate as remote work takes off in the post-pandemic world, businesses reduce their physical footprints even more, and property developers begin to find ways to turn their properties into places people want to live.
According to a PwC survey, office vacancy rates remain high in many major American cities nearly two years after the pandemic began. 
Source: Yahoo finance
Moreover, nearly one-third of executives believe they will need less total office space in the next three years because of remote work.
As of 2022, former office spaces will make up a quarter of the converted apartments, which will increase to roughly 12,300 rental units.
Besides the location of the building, another crucial aspect for converting a business office building into a housing unit is its affordability.
Businesses districts are usually centrally located and highly accessible by design, making them lucrative real estate, Loh says. In contrast, he says cities with large office markets tend to have fewer nearby housing opportunities. Fortunately, developers can be highly rewarded for converting expensive unused office space into a high-demand and high-priced housing stock.
According to RentCafe's report based on data from Yardi Matrix, a commercial real estate research firm, a record number of 20,100 apartments will be converted this year, bringing the total number of converted units to 32,000 since the beginning of the year 2020.
In 2010, just 5,300 apartments were converted from commercial spaces into rental housing, RentCafe reports, a dramatic increase since 2009. Adaptive reuse for hotels and factories was the highlight of the 2010s, but office conversions should be the next big trend throughout the 2020s.
In some of the most congested and expensive cities across the U.S., adaptive reuse can help address several housing affordability issues while having a lower environmental impact and costing less money and time to complete.
The newest housing units have been created in Philadelphia and Washington, D.C., in 2020 and 2021, while most projects will begin in Los Angeles and Cleveland in 2022.
It is sometimes necessary to look for a new business office building for sale if one of your businesses is expanding, closing, or just needing a new space. As a result, you will need to find a way to sell your old office building.
However, take a moment to observe your business office building for sale as well. You park in the parking lot every day, enter through the front door, and spend the rest of the day at your desk. When was the last time you looked at it? Do you notice how some parts of the building have chipped paint and look worn down? Are you aware that the landscaping surrounding the building could use some work? Are you comfortable with the look of the interior of the business office building?
Even though you may consider some of those things endearing and add character to your office, if you were trying to put office space for sell and move out, some of those things could put prospective buyers off. When they buy a building, they likely want something that looks good and scream, "This is the perfect place for my company to do business."
Is there anything you can do to improve the appearance of your office building when you are selling office space? You can give your building a facelift and make it look brand new by following a few simple steps. Even though it may seem impossible at first, you will be surprised at how much you can do to turn a weathered building into something that looks brand new.
1. Create a Fresh Slate
Make sure your commercial premises are ready for a buyer or tenant before marketing them. Property that is ready for tenants and buyers to move into has a higher probability of being selected by these parties over one that needs some remedial work and redecorating.
If you own one or more commercial properties that you lease to tenants or purchase such premises to sell, make sure that any construction or demolition waste is properly disposed of. For example, old furniture, equipment, etc., should be properly disposed of. You can also paint your walls and ceilings white to make them look fresh and modern if they are a little worn out.
2. Make Sure Any Outdoor Spaces Are Tidy
A prospective client or visitor will not wish to have a bad first impression of the property when visiting the tenant or buyer. It is therefore important to remove any excessive trash outside.
Likewise, hire an experienced waste management company to responsibly dispose of debris or building rubble. You might also consider repairing and painting any exterior surfaces, such as potholes in the parking lot.

Source: Complete Landscaping services
You might consider hiring a gardener or landscaping expert to make any raised flower beds more welcoming outside the building by adding new plants, flowers, and shrubs. Perhaps you are reading the above and thinking that such actions are overkill and that the money spent on them is wasted. However, it's amazing how even such subtle factors may significantly impact an individual's decision to buy or lease a commercial building.
A picture speaks a thousand words, as is often cited. What a potential buyer sees when visiting an office building can significantly influence how they feel about it.
Curb appeal is king, so keep that in mind. As a result, you're going to have to spruce up your property down the road and make it look like a must-have piece of property.
The foundation shouldn't be overlooked either. To ensure the building's foundation is sound, you should talk to foundation contractors about erosion control.
A potential buyer who sees the work you've put into sprucing up the outside of your building may stop to inquire more about your office building. As said earlier, curb appeal is king hence the need to build on this advantage.
3. Make Sure That Gas and Electricity are Available
Buying or leasing an unsafe building is not just morally wrong; it could even be a violation of the law. Therefore, the building's gas and electrical supply and services must be safe and suitable for its next occupant.
Inspect your building's utility supplies frequently and resolve any issues where necessary by only hiring licensed gas and electrical technicians. You'll also be able to inform new buyers and tenants that your building has been inspected and approved for safe gas and electricity supplies.
4. Have Your Property Earthquake-Proofed
Irrespective of where your commercial property is situated, whether it is in San Francisco or Nashville, your property needs to be protected at all times. This is because an earthquake can strike at any time, sometimes even in places with no previous earthquakes.
Your commercial building will likely remain standing after an earthquake if you take several precautions. One option is to hire a company specializing in soft seismic story retrofitting. To increase your return on investment, you might even want to consider reinforcing the foundations. Finally, if you sell or rent out the building, you need to consider how much money you're willing to spend making your property earthquake-proof.
5. Make Your Building Energy-Efficient
Today, companies and other organizations are keen to cut costs wherever possible to keep utility costs as low as possible. Making their working environment more energy-efficient is how they can achieve this goal.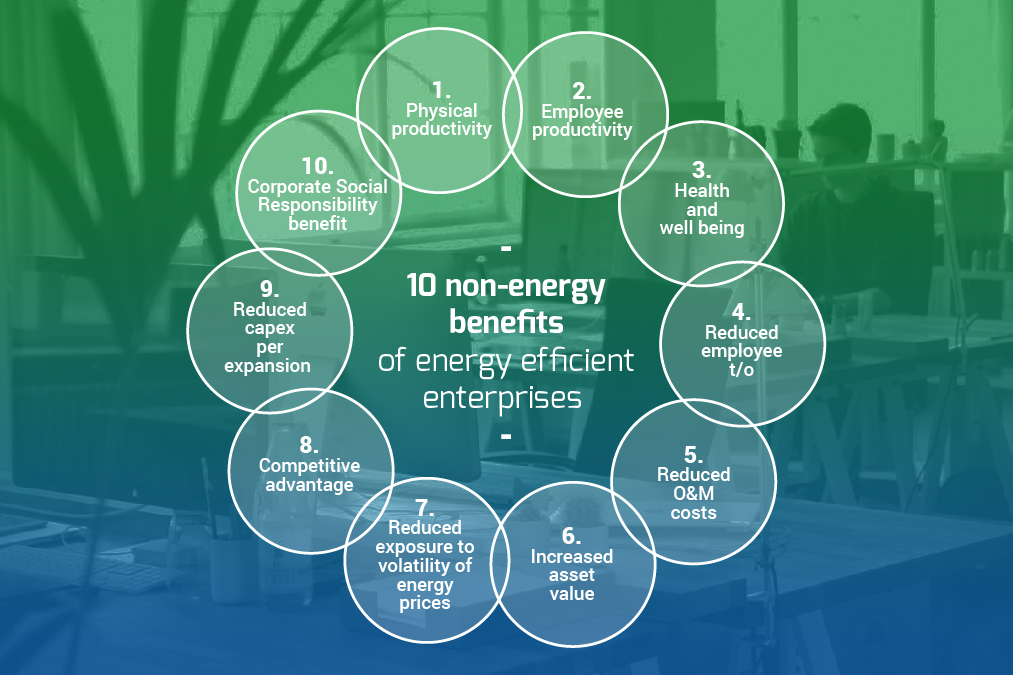 Source: Ecrowd
You can make your commercial building more energy-efficient to attract tenants and buyers – and make it more attractive. Here are some examples:
The installation of LED lighting;

Installing motion detectors that switch on the lights automatically when a person enters a room;

Removing old windows and replacing them with energy-efficient ones;

Collecting rainwater to refill toilet cisterns.
You can make your commercial premises more energy-efficient in dozens of different ways.
6. Removing or Properly Containing Asbestos
Asbestos-containing materials were likely used in constructing commercial buildings several decades ago. Therefore, it should be clear that asbestos poses a high risk to human health, so it should not be handled. In light of this, an asbestos survey is necessary for your premises.
With all the facts in hand, you can make an informed decision on whether to dispose of asbestos-containing items or contain them properly. In addition, this work allows you to advise any future buyers or tenants that there is no need to worry about asbestos before moving into the building.
A professional company should be used for asbestos surveys and removals. Never attempt to remove or contain hazardous waste yourself. You could end up seriously injuring yourself and those around you if you do not take action.
7. Make Sure Your Commercial Building is Accessible
For example, can someone in a wheelchair find their way easily to your reception area if they want to visit someone working inside your building? Was it also possible for them to make their way to the relevant area or floor once they were there?
If the answer to this question is "no," then making your property more accessible is advisable. For example, people who use wheelchairs or struggle to walk will find it easier to enter the building because concrete ramps with handrails can be installed near its entrance.
You may also want to invest in an elevator if you plan on renting out your multi-floor commercial space to tenants. In this way, your building will be more accessible to both visitors and employees. Additionally, it will make your premises more valuable.
8. Make Sure All Fire Escapes and Sprinklers are in Working Order
Almost no one wishes to consider the possibility of fire destroying a commercial building's contents and risking the lives of its occupants. Considering this, you should check that there are no blocked fire escapes and that the sprinkler systems are functioning properly.
All fire escapes should be marked, and sprinkler systems and smoke alarms must operate immediately when tripped. It's also a good idea to make sure fire extinguishers are fully functional and replace any that aren't.
9. Make the Office Interior More Appealing
When a potential purchaser comes inside your building to see it, you need to wow them. However, you need to do just as well on the inside if they're drawn to the outside of the office. Keeping the office looking fresh can be accomplished by updating its décor.
You can change its color scheme if you want to spruce up the office. The right color scheme can transform an office that has been gray and bare for a long time. If you're trying to create a business or academic look, you can use saturated colors like red and green. Colors that pop are perfect for companies with an entrepreneurial spirit. Adding murals and accent walls is a great way to emphasize the company's creativity.
Rearranging the furniture is another way to change things. A move like this can open up the office space and boost collaboration and teamwork. In addition, you may want to consider removing some of those walls for a more open environment, which will make a prospective buyer think the space is bigger.
One way to rethink your furniture is to rearrange it, but another is to invest in new furniture. Why would you do that? Modern furniture features make them far more inviting and comfortable than conventional furniture. By implementing this, anyone who enters the office can feel at ease with the atmosphere instead of feeling uncomfortable surrounded by cold, sterile, hard furniture.;
A remodeling contractor can certainly help you as you redo office décor to get the building ready for sale. But you can also ask your co-workers for assistance. Often, your employees are the ones that are working inside the building with you every day, so they might be able to give you some great suggestions for customizing work areas, knocking down walls, and truly making the office feel inviting.
If you wish to make your office look more polished, you might want to incorporate Mother Nature. You can take another step to make your office seem more inviting by adding plants, sunlight, and other natural elements.
10. Do Not Neglect Safety
When preparing your business office building for sale, it is important to make sure the building is safe. You can accomplish this in several ways.
First of all, make sure that your fire alarms are working properly. Next, you must ensure your fire alarm system works in all buildings. Finally, to ensure that everyone can hear the fire alarm in the event of an alarm going off, test the office smoke alarms at least once a month.
In addition, you must make certain that the building's emergency escape routes remain open. You may want to check those routes now to ensure boxes, tables, or chairs don't block them since they haven't been checked for a while. It would be a terrible thing to become trapped in an emergency. Check with local fire protection companies if you need help identifying routes and educating your staff.
One big safety tip is to check all of the building's electronics since so much of how companies do business is driven by technology. When you move to another building, you're probably going to bring some of your equipment along with you. All other items you might leave in the building – phones, lamps, printers, etc. – should be checked for any wear and tear, and any faulty wiring should be removed. Electrical equipment poses a serious fire safety risk, whether you realize it or not.
Ensuring employee safety is also on the minds of many potential buyers. If you're moving into another building, you can share information about neighborhood urgent care clinics, hospitals, dentists' offices, or even the best orthodontic offices with potential buyers. Likewise, a new buyer of your old building who wishes to move into it will be grateful for any tips or information you can provide, especially regarding safety and employee health.
11. Highlight the Special Features
Is there a room big enough in your old office building to receive shipments that arrive on wood pallets? Do your buildings have their printing presses for flyers, brochures, and coupons (an activity that 69% of U.S. consumers report they "frequently" use)? Are there enough storage spaces in your business to store metals and plastics for manufacturing?
It would help if you weren't afraid to show off your business office building's features, including your back room. For example, an enterprise might be looking for a large warehouse to store wood pallets in Florida or materials ordered from an industrial plastic distributor. To impress potential buyers, you should have something extra to offer.
Consider, for example, the possibility of a new manufacturing company opening a shop in your town. You might be able to sell the building a lot sooner than you anticipated if the company is searching for a new location and you can meet all of their requirements in terms of décor and space.
12. Prepare a Pricing Strategy
While you can do almost anything to an office building inside and outside to make it more appealing to potential buyers, you also need to consider its price. In the end, putting a building up for sale and sprucing it up is meant to make it more marketable.
What's the best way to get started? First, check out properties in your neighborhood if you want to find the perfect house. Consider how big these properties are, how much they may have sold for, and when they were sold. Even though finding this information can sometimes be a challenge, looking is always a good idea.
Trying the competition might not hurt if that doesn't work. You should check with companies that do the same thing as you to see if they offer anything similar. Find out what amenities they offer, where they are located, and their lease rates.
It would help if you remembered that even though buyers are likely to like the look of a building, they may also be motivated by its ability to generate income. An example of this is the capitalization rate (CAP), which is how companies calculate how much they invest in a property versus the annual income. For example, if a company earns about $100,000 a year and purchases property for $1 million, the CAP rate is 10%.
It might be helpful to think about a potential buyer's perspective as you develop a pricing strategy. Being up-to-date and knowing a buyer's preferences means having access to the most relevant information. For example, will they be renting or purchasing? Will this be a property that they purchase and renovate?
The most important thing you can do when negotiating is to be honest with the buyer. Don't try to feed them dishonest or misleading information about your building or property, but highlight everything well. Ensure they know everything they want to know and everything they need to know and anticipate some of the obvious questions they will ask.
13. Understanding the Investor's Point of View
First and foremost, ensure that your listing information is accurate and up-to-date. When your information cannot be disputed, it's easier to negotiate a strong contract.
Identify the preferences of potential investors. For example, they are looking for a turn-key property with 100% leases, or are they willing to improve the building and tenant mix? Before talking to investors, make sure you know what your tenant mix looks like.
Your location's attributes should always be highlighted. For example, make sure to note recognizable cross streets around your property, as well as how close the property is to the highway, public transportation, and traffic generation. In addition to demographic information, potential investors should be aware of household income, age, and population numbers.
14. Get In Touch with a Professional Commercial Real Estate Broker
Consider partnering with a commercial real estate broker if you feel overwhelmed just reading this. Relationships with your broker are crucial in the CRE market. There are a lot of issues at stake when it comes to commercial real estate transactions, and the process can be extremely difficult. You want someone who has your best interests in mind. Choose a broker who has the following skills:
Knowledge of local markets expert

Takes advantage of current marketing technologies for real estate

Attract qualified buyers globally through an international presence

Having a strong presence within the community

Digital and traditional marketing packages customized to your needs

Experienced in contract negotiations

Expertise in market research best practices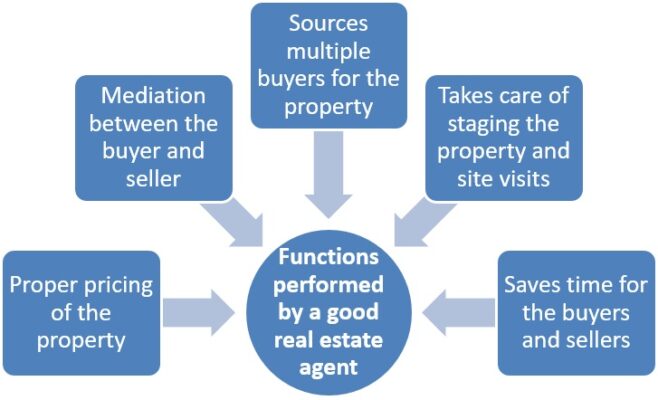 Source: Housing.com
How to Sell an Office Building
To understand how to sell an office building, it is important you understand what commercial properties are and what makes them different from residential properties. Commercial properties include land, apartments, office buildings, residential and retail rental properties, and industrial complexes and shopping centers. Commercial property owners may decide to sell for various reasons, and the process of selling the property can take some time. Before putting a commercial property on the market, there are several factors to consider, no matter what type of property you have. First, you must target the appropriate buyer's market to set the right price.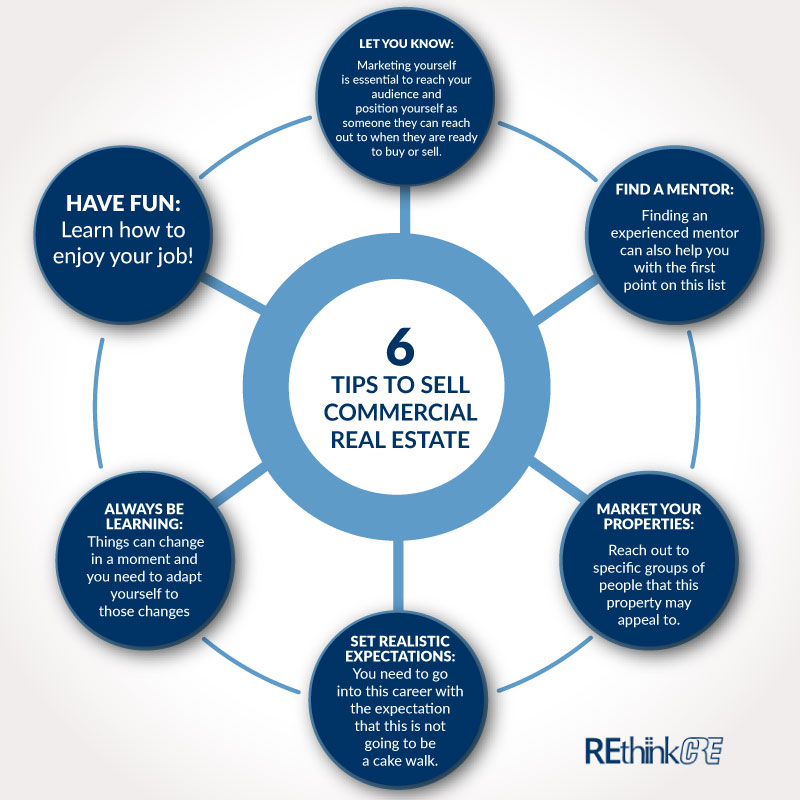 Source: Rethink  
Here is a step by step instruction on how to sell an office building:
Be sure to consider the mortgage balance and the financing terms you are willing to accept before you set a sales price. You should know the property's value, but you should also be realistic with your price. An honest buyer knows what is happening in the market.

Get an appraisal from a professional. Commercial properties are valued based on their ability to generate income. An estimated value is determined by considering both the rental income and the expense of the building. In deciding whether or not to extend a loan to a potential buyer, lenders will take the property's value into account.

Place a strong emphasis on location and future income-earning potential when marketing the property. Utilize different media to advertise the property. If your property is along a well-traveled road, you should post a Commercial Property for Sale sign nearby. Provide buyers with general information about the property in your marketing materials.

You can find qualified buyers for your property by listing it with a

commercial real estate broker

. Your broker ensures that a potential buyer has the financial resources to buy your property by interviewing them. Hiring another person to conduct the initial screening saves you time. Brokers are also experienced in negotiating for a better price on your behalf.

The terms and conditions of a sales agreement should be negotiated. You can counter an offer from a buyer. You should specify the price, amount of earnest money deposit, closing date, and terms of financing in your agreement after deciding on a price.

Ensure the building is in good condition before putting it on the market. Therefore, you will have the chance to remedy or correct any problems that could prevent a sale. A professional inspector or general contractor can identify a building's foundation, structure, roof, electrical system, heating system, and plumbing system. You may also hire specialized inspectors to determine whether the building contains any environmental health hazards such as lead, asbestos, mold, or other hazardous material.
Price to Sell Commercial Office Building Based on Rental Income
The best way to set the price to sell a commercial office building is based on rental income – it is called the income valuation approach. 
According to the income approach, value is determined by the property's cap rate. A property's value is calculated as follows:
Current Value = Net Operating Income (NOI) / Cap Rate
If a rental property generates $700,000 in annual revenue with a cap rate of 8%, the current value would be $8.75 million ($700,000 / 8% = $8.75 million).
To calculate the cap rate, market sales of comparable properties are extrapolated.
You can adjust the cap rate to account for the property's unique characteristics, such as high-quality tenants or a less visually appealing façade. If the cap rate is within half a percentage of the local average, the deal should be considered a success.
Advantages of using income approach to set price to sell commercial office building based on rental income:
It adapts to recent sales activity of comparable properties and can be adjusted for factors unique to the property.
The most commonly used method of valuing commercial real estate can be applied to any property that generates a consistent and predictable income.
Disadvantages:
The NOI and value are overstated because vacancies and collection losses are not considered.
Also, it fails to consider necessary extensive repairs that will reduce future net operating income.
Contact Commercial Consult
You can receive more detailed information from Commercial Consult about selling a business office building. Moreover, we are happy to provide you with advice on selling office space.
Our team of experts has a vast understanding of the industry, which allows them to offer you excellent advice on how to sell a business office building. In addition, we have an experienced staff of commercial consultants who specialize in commercial real estate. As a result, you can count on us to find the perfect space for your business. We have experience with industrial warehouses, retail centers, business office buildings, malls, and much more.
With our assistance, you will be able to take care of anything related to real estate, including buying, leasing, financing, development, and construction. 
Contact us today if you wish to sell your business office building.